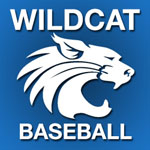 STATE COLLEGE — The Central Mountain baseball team was looking to build up some momentum for the postseason playoffs beginning next week and for five-plus innings at State College it looked like the Wildcats were on the way to a romp over the Little Lions.
Central Mountain was seemingly coasting home with an 8-1 lead heading into the bottom of the sixth and then the wheels came off. The Wildcat bullpen and defense collaborated to help provide State College with eight runs and a 9-8 Little Lion lead heading into the top of the seventh.
The Wildcats bounced back to pull out the win by a 10-9 score, despite giving up seven walks, having two runners called out at home and committing five errors. But junior Mahlik Houtz, the third Wildcat pitcher in the wild bottom of the sixth, restored order and picked up the win with 1.2 innings of no-hit ball. He was also in the middle of the CM rally in the top of the seventh.
Down by a 9-8 score with one out in the final inning, Asher Corl singled to left and Austyn Carson singled to right, runners on first and third with one out. Houtz singled in Corl to make it 9-9 and Landon Breon provided what proved to be the game-winner when he bunted home Carson from third for the 10-9 lead. Houtz pitched a scoreless bottom of the inning to secure the win; he also picked up the only strikeout from four Wildcat pitchers. Junior starter AJ Smith had given coach Mike Kramer five solid innings of one-run work, giving up six hits while walking four.
Meanwhile the Central Mountain offense was very much alive, led by Brandon Miller's three singles and one RBI. Trevor Hanna had two singles and an RBI, Corl two singles, Carson two singles and an RBI, Houtz a single and two runs batted in, Travis Gardner a double, Zach Eck a double and Breon with his game-winning squeeze bunt RBI.
The win put Central Mountain at 12-6 heading into a Heartland Conference matchup at Shikellamy Tuesday. The Wildcats, 7-2 in league play, need a win to forge a regular season tie with Jersey Shore, the Bulldogs (11-6) finishing 8-2 in the Heartland. The Wildcats will wrap up the regular season at home with Williamsport on Wednesday. State College fell to 9-8 with their Monday loss.
| | | | | | | | | | | |
| --- | --- | --- | --- | --- | --- | --- | --- | --- | --- | --- |
| May 15, 2017 | 1 | 2 | 3 | 4 | 5 | 6 | 7 | R | H | E |
| CENTRAL MOUNTAIN | 0 | 0 | 1 | 4 | 3 | 0 | 2 | 10 | 12 | 5 |
| HOME TEAM | 1 | 0 | 0 | 0 | 0 | 8 | 0 | 9 | 10 | 0 |