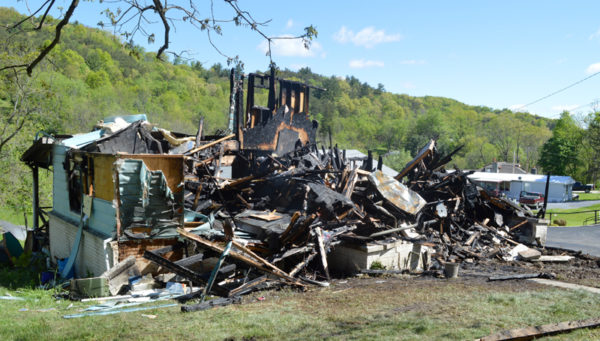 From staff reports
LOCK HAVEN – A Lusk Run Road home was devastated by fire this morning, left in burned shambles after fire fighters were on scene for roughly six hours stamping out the blaze.
Around 4:11 a.m., Corey and Danielle Grieb and their three children – including 10-year old twin daughters and a 7-year-old son – woke up to smoke detectors sounding in their home at 1357 Lusk Run Road, Allison Township, Danielle told therecord-online.
The family of five and their dog were able to escape the residence without injury; however, the home is unsalvageable.
Eric Brungard, full-time driver at Citizens Hose Co., said the home, which is over 100 years old, is a total loss.
The station was dispatched for a small fire near a dryer, Brungard said. However, the official cause and starting location will be determined by Cpl. Nick Loffredo, state police fire marshal out of the Montoursville barracks, who was on scene about 8 a.m. A call to Cpl. Loffredo has not yet been returned.
Danielle said the family did not have fire insurance.
"People are asking me, 'What do you need?' … I'm like, I don't know. Everything," she said, looking at the singed debris that sits where her home formerly stood.
They intend to stay with family as they figure out what the future holds and may establish an account to accept donations, Danielle said. The Salvation Army and American Red Cross both had contacted the family in the immediate hours following the fire to offer assistance, she noted.
Fire companies responding to the scene were Citizens Hose Co., Hope Hose Co. and Hand-in-Hand Hose Co. of Lock Haven, Mill Hall, Flemington, Castanea, Dunnstown, Beech Creek, Woolrich and Citizens Hose Co. of Jersey Shore.