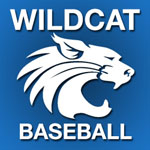 MILL HALL – Central Mountain (11-6, 7-2) had to dig deep to persevere in the bottom of the 12th inning to score the game-ending go ahead run for a hard-fought 2-1 PHAC victory over visiting Shikellamy (6-10, 4-5).
It was Troy Gardner that came to bat in the bottom of the 12th inning, who put the ball in play with runners on second and third and scored the game-ending run on a fielder's choice. Mahlik Houtz and Landon Breon both worked walks to get on base then Bobby George moved the runners into scoring position, also on a fielder's choice, to set up the table for Gardner to score Houtz for the win.
Shik took a 1-0 lead in the top of the first inning and it took the Wildcats until the bottom of the fifth inning to knot the score, 1-1.
Both pitchers were getting it done on the mound and their respective defenses were playing solid baseball behind them frustrating opposing batters throughout the game.
Shik starter, Logan Kern and his Wildcat counterpart, Ethan Watkins were very stingy and efficient in their respective efforts on the mound tonight, each going at least 8 innings. Kern had but 71 pitches heading into the seventh inning, Watkins had 74. That's efficient use of their arms considering the new PIAA 100 pitch count rule.
In that seventh inning, both pitchers only used 8 pitches each to retire their opponents then Watkins tallied 16 more in the eighth inning and Kern added 10 more.
In the ninth inning CM called upon sophomore phenom, Aaron Swartz to close out the game while the Braves relied on senior, Ross Wosnik. Unfortunately for Shik, it was Wosnik that struggled first allowing two batters to reach base with no outs and allow the Wildcats to score on the fielder's choice.
Watkins ended up allowing 5 hits, walking 3, striking out 9 batters on a total of 101 pitches in 8 1/3 innings. Swartz worked for 3 2/3 innings giving up 1 hit, walking 1 and striking out 6 batters throwing 61 pitches.
Kern pitched a full 8 innings allowing 5 hits, 1 base on balls and 2 strikeouts while Wosnik walked 3, struck out 2 in 3 1/3 innings.
Recording hits for Central Mountain in the game were: Breon had a double and a single with Trevor Hanna, Asher Corl and George all had a base hit to their credit.
Brandon Miller and Breon each had a stolen base in the game.
Up next for the Wildcats is a road trip to State College on Monday, May 15, 2017.
| | | | | | | | | | | | | | | | |
| --- | --- | --- | --- | --- | --- | --- | --- | --- | --- | --- | --- | --- | --- | --- | --- |
| May 11, 2017 | 1 | 2 | 3 | 4 | 5 | 6 | 7 | 8 | 9 | 10 | 11 | 12 | R | H | E |
| SHIKELLAMY | 1 | 0 | 0 | 0 | 0 | 0 | 0 | 0 | 0 | 0 | 0 | 0 | 1 | 6 | 2 |
| CENTRAL MOUNTAIN | 0 | 0 | 0 | 0 | 1 | 1 | 0 | 0 | 0 | 0 | 0 | 1 | 2 | 5 | 1 |