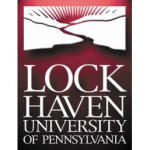 LOCK HAVEN – The undergraduate commencement ceremonies planned for this Saturday at Lock Haven University will be held inside Thomas Field House instead of outdoors at the Hubert Jack Stadium, the university announced today.
"Due to the high probability of drenching rain, cold temperatures, and high winds on Saturday we have implemented our Undergraduate Commencement Contingency Plan," a press release from the University Relations Department explained. "We have done everything we can to provide a rich and meaningful ceremony appropriate for celebrating the success of our graduates.  We know that weather cannot be controlled and think that this alternative will allow our Haven Family to be safe and celebrate our graduates' accomplishments."
The undergraduate ceremonies will take place at 10 a.m. (for students with last names A-L) and at noon (students M-Z) Saturday, May 13. The Thomas Field House is located along Campus Drive on the main campus of LHU.
The Graduate Ceremony scheduled for Friday, May 12 at 7 p.m. in Price Performance Center will proceed as planned, according to the release.
For more detailed information, as well as a link to the live stream video the day of the event, visit www.lockhaven.edu/commencement.