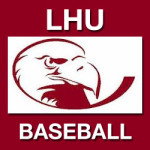 WEST CHESTER – The Lock Haven University baseball team (31-16, 16-12 PSAC East) closed its historic regular season Sunday on the road at nationally-ranked West Chester University (33-9, 22-6 PSAC East). After the Bald Eagles swept No. 13 West Chester at home Saturday, the Golden Rams took both games of Sunday's divisional doubleheader.
WCU won game one 11-2 and completed the sweep with an 8-3 game-two win.
Saturday's sweep at home over West Chester helped Lock Haven clinch its first Pennsylvania State Athletic Conference (PSAC) Tournament appearance since 2009. The 2017 tournament is set to begin on Wednesday at Point Stadium in Johnstown. LHU, the PSAC East's No. 3 seed, will play at 3:30 p.m. on Wednesday vs. the No. 2 seed from the West (TBD).
Sunday's two losses move LHU to 31-16 overall. The 31 wins mark a school record for wins in a single season. Lock Haven finished PSAC East play at 16-12 and the 16 divisional-wins mark the most ever for a single season.
The 2017 PSAC Tournament opens Wednesday, May 10 and runs until Sunday, May 14 at Point Stadium in Johnstown, Pennsylvania.