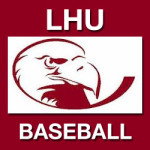 LOCK HAVEN – Saturday started as a special day for the Lock Haven University baseball team (31-14, 16-10 PSAC East) and it ended as a historic one for the Bald Eagles, who swept No. 13 West Chester University (31-9, 20-6 PSAC East) 8-7 and 5-1. The sweep helped Lock Haven clinch a spot in the Pennsylvania State Athletic Conference (PSAC) Tournament and pushed LHU to 31-14 overall – with the 31 wins setting a school record.
Prior to game one, Lock Haven head coach Jim Chester and the Bald Eagles held a ceremony to honor The Watkins family and dedicate the newly named Watkins Field, which was renamed in their honor. LHU also honored its senior class.
Following the special pre-game ceremonies, it was all business for the Bald Eagles who went to work and swept the PSAC East's top team.
LHU won game one 8-7 and took game two 5-1.
The sweep helped Lock Haven earn its first PSAC postseason berth since 2009 and pushed LHU to 31-14 on the season. The 31 wins are a school record for wins in a season, passing the previous mark of 30 (2000).
Lock Haven edged West Chester 8-7 in game one after Cayden Stover's (Beech Creek, Pa./Chesapeake College) sacrifice fly scored Sam Kysor (Port Allegany, Pa./USC Upstate) for the winning run in the sixth.
The Bald Eagles got clutch hit after clutch hit in game one, and LHU was aided by home runs from Kolby DeHaas (Coeur d'Alene, Idaho/Wenatchee Valley Community College) and Nick Stotler (Pittsburgh/Coker College).
DeHaas hit a two run homer in the third and Stotler hit a two-run homer in the fourth. DeHaas finished 2 for 3 at the plate with three RBIs and Stotler was 3 for 4 with three RBIs and two runs scored.
Starting pitcher Jacob Belinda (Port Matilda, Pa./Tyrone) struck out seven in 4 1/3 innings of work, which ties him for No. 3 on LHU's all-time career strikeout list (197). Nick Hornbaker (Lancaster, Pa./East Stroudsburg Univ.) entered for Belinda with out in the fifth and Hornbaker allowed just one hit over 1 2/3 innings of work on the way to the win. Closer Breton LaRose (Ogdensburg, N.Y./Sacred Heart) put the game away with a 1-2-3 seventh inning on the way to his 10th save of the season.
In game two, Lock Haven rode a sensational start and all-around strong pitching effort.
Brett Morrison (Duncannon, Pa./Susquenita) got the nod and limited West Chester to just three hits over the first five innings. He struck out six in a dominating effort before giving way to Mike Anthony (Audubon, Pa./North Hampton Community College), who entered the game to put things away. He did just that and tossed two no-hit innings. He struck out four in two straight 1-2-3 innings in the sixth and seventh.
DeHaas was 3 for 3 at the plate and he had a RBI-double in the fourth. Stover and Stotler both had two-hit games, as did Hunter Szaflarski (Greencastle, Pa./Hagerstown Community College), who was 2 for 4.
Matt Lahn (Georgetown, ONT./Erie Community College) opened the scoring in the first with a double that drove in a pair of runs. From there it was all Lock Haven.
Stotler and DeHaas both had RBI-doubles in the fourth to spark a three-run inning.
Lock Haven and West Chester were scheduled to do it again Sunday at West Chester.