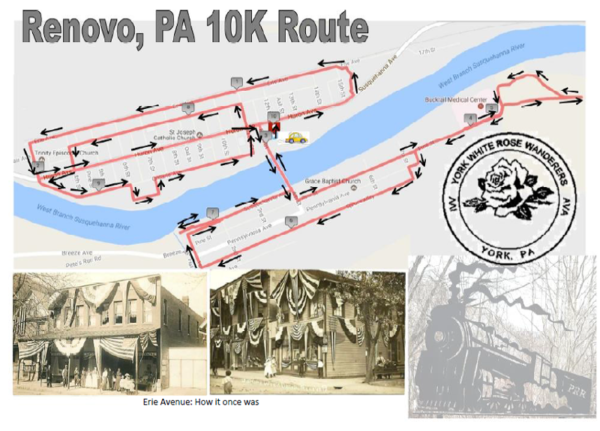 By LaKeshia Knarr
RENOVO – Walking through Renovo Borough today, you can tell it once was a bustling place filled with industry and families. While the community is making progress as it mounts a comeback, one woman has created a guide to shine a light on the heritage and assets of the municipality in a way that is accessible to everyone.
Lorraine Weaver Jackson is that woman, and surprisingly enough she isn't even from Renovo. A member of the York White Rose Wanderers, a club based out of York, Pa., that promotes walking for fun and fitness, Lorraine first stumbled upon the quaint borough of Renovo when she participated in the Hyner View Trail Challenge 25K in 2012.
"I really loved Clinton County, Sproul State Forest and the area in general," she said. "While in the area, we came to Renovo to eat breakfast and lunch and we also launched our kayaks at the launch point behind the Flaming Fall Foliage Visitor Center. When we drove up Erie Avenue, I saw the remains of the rail yards. Then I started noticing some of the old buildings that remain along Erie Ave. I realized that this town was rich in history."
Lorraine's walking group is supported by the national walking organization, the American Volkssport Association (AVA). "Volkswalking" or "Volkssporting" originated in Germany and "volks" means "people" in German. The non-competitive sport is meant to include all people.
"Most of us enjoy the company of other people along the walks, and in fact most of us who have stuck with it have developed a really nice network of friends along the way. We keep it fun by walking in different places – places we have perhaps never been to before, or may have never considered visiting, but that are really worthwhile and interesting," Lorraine explained.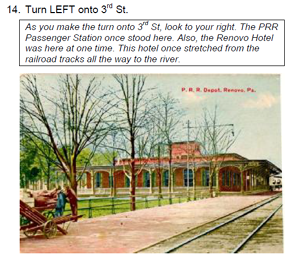 Seeking a new landscape to explore is what ultimately led to Lorraine's self-guided Walking Tour of Renovo and South Renovo boroughs.
She and a few of her friends set a goal to volkswalk in each of Pennsylvania's 67 counties.  Having missed out on an opportunity to walk in Lock Haven a few years ago at an event hosted by the Nittany Nomads of State College, Lorraine decided to plan her own trip to Clinton County after reaching each of the other 66 counties of the Commonwealth.
"Since I needed to do a walk in Clinton County, I decided to lay one out. I didn't want to repeat Lock Haven since it had been done before – even if it was a nice walk. I just wanted to do something different," she said.
After looking at various options – including Ravensburg, Kettle Creek and Hyner Run state parks – she ultimately settled on a less-rugged option. All of the walks are at least 6.2 miles long, with a shorter 3.1 mile route often available for those who can't or don't want to walk as far, Lorraine noted.
"The challenge was trying to lay out a 6-mile walk in Renovo, she said, "but with crossing the river and going into South Renovo, we were able to do it – and it's a GREAT route!"
Using Wayne Short's book "The History of Renovo, Pennsylvania" as a reference and speaking with as many people as she could, Lorraine laid out the walk. The directions Lorraine developed are 8 pages long and include a map, photos and historical information, while pointing walkers to spots of interest and unique features throughout the community.
"I wanted to make this walk a very interesting self-guided tour of Renovo to really show the Renovo of the past as well as the Renovo of today," she said. "It is such an interesting place with so much fascinating history!"
The description of the community on the website about the walk reads," A now quiet town nestled in the lovely mountains of Clinton County in the Pennsylvania Wilds and bisected by the West Branch of the Susquehanna, Renovo takes its name from a word meaning 'To Renew' because of its rich history as the go-to place for repairing steam engines." It goes on to describe the area's railroading history, beautiful natural scenery and Flaming Foliage Festival.
Lorraine hopes this walking opportunity will inspire folks to volkswalk, noting most of the volkswalkers she knows are from the southern part of the state.
As a Seasonal Event the Renovo area volkswalk will be available April 1 through Nov. 1, unlike Year-Round Events or Regular Events, which are held during specific dates.
Volkswalkers typically carry a set of books to track their various walks, event stamping them when a walk is finished. The books serve as souvenirs and show the walkers' progress, while also having a dual function.
"When we fill up a book, we mail it in to the national organization and then they return our books to us along with a patch, a pin and a certificate that commemorates our accomplishment!" she said.
To get to this self-service volkswalk in Renovo, visit the Flaming Foliage Visitor Center and look for a box under the bench outside where participants will find everything needed for the walk, including registration, a folder with directions, a stamp and stamp pad, and envelopes where they can send a check to the walking club if they choose to stamp their books.
Read more about the Renovo walk at http://clubs.ava.org/gen3/data/event_details.asp?eventid=106788.