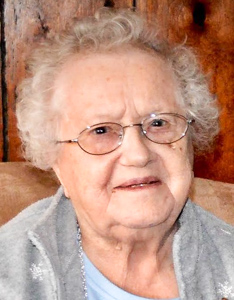 Ruth G. Bowes, 100, formerly of Renovo, passed away Tuesday, April 25, 2017 at Haven Skilled Nursing and Rehabilitation, Lock Haven where she resided since May of 2013.
Ruth was born on her family's farm in Howard on January 27, 1917, the daughter of the late Earl and Eva Schenck Confer.
On May 2, 1936 in Milesburg, she married James T. Bowes, Sr., whom preceded her in death on February 3, 1979.
Ruth was a member of Flemington United Methodist Church and a past member of the Ladies Aid of South Renovo Chapel.
She spent the majority of her life as a homemaker in Renovo before moving to the Meadows Edge Apartments in Mill Hall in June of 2009. Ruth enjoyed gardening, ceramics, knitting and crocheting and had made mittens and scarfs for all her grandchildren. She also liked camping and fishing, especially her annual summer fishing trips to Canada with her family. She was an avid sports fan, especially of Penn State football and the Atlanta Braves and loved attending her grandchildren and great grandchildren's sporting events. Ruth also enjoyed the QVC television channel as well as watching Jeopardy.
Ruth is survived by her son, Jim T. (Nancy) Bowes of Flemington; her daughter, Janet Lea (Lane) Desmond of Mill Hall; six grandchildren, Doug (Debbie) Desmond, Todd (Jeanette) Desmond, Tammy (Jeff) Rager, Jimmy (Lori) Bowes, Kenny (Anita) Bowes, and Wendy (Tracey) Bowes; eleven great-grandchildren, Clayton (Brittany) Desmond, Garrett (Celia) Desmond, Kelly Jo (Blake) Barth, Amanda (Brad) Baldwin, Chelsea and Ashley Bowes, Megan, Heidi and Brooke Desmond, and Colton and Courtney Rager; three great-great grandchildren, River and Kenslee Barth and Mack Desmond; and several nieces and nephews.
In addition to her parents and husband, she was preceded in death by two brothers, Robert and Gordon; and four sisters, Leah, Blanche, Alice and Rosetta.
Services were held on Friday, April 28, 2017 at the Donald G. Walker Funeral Home, Inc., 231 High St., Flemington.
In lieu of flowers, memorial contributions may be made to Flemington United Methodist Church.
Online condolences may be sent by visiting www.donaldwalkerfuneralhome.com