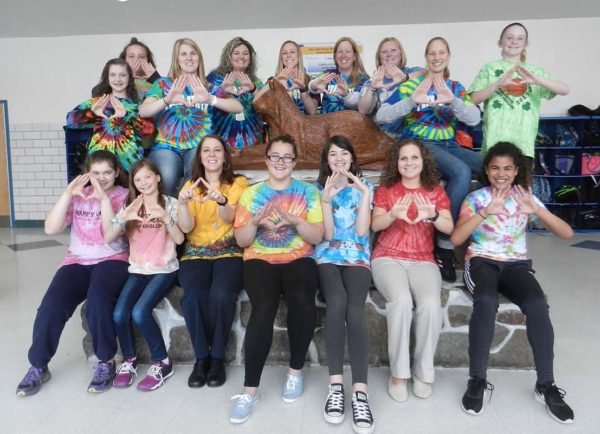 MILL HALL — Central Mountain Middle School students knew through the loss of a classmate to cancer that they would welcome participation in Penn State University's annual Four Diamonds program.
That middle school effort will come to culmination this Friday as students and faculty stage their second annual Mini-THON at the school's Harold Adams gym. The goal is $10,000 and all the proceeds will assist PSU's Four Diamonds in that group's effort to conquer childhood cancer.
Eighth-grader Mallory Eck, a member of the Mini-THON's entertainment committee, said for the middle school students, participation is "personal," citing the loss of late classmate Aiden Fowler who succumbed to cancer just after the Christmas holidays a year ago. Also to be remembered is the late middle school graduate, Courtney Jarrett.
Eck said entertainment and motivation for the students during the afternoon and evening on Friday will be provided by student-athletes from Penn State and longtime Penn State and Four Diamonds supporter "Mike the Mailman," a Lock Haven native.
School students have been involved in the project since last fall as they work towards Friday's "reveal," the point just before 8 p.m. when the total raised will be announced. The public has been invited to visit the Adams gym between 7:30 and 8 p.m. to support the students; the goal this year is $10,000.
Assistant principal Mike Baughman said there will be some powerful speakers as the gym activities reach the unveiling. Following the gym ceremony sky lanterns will be set aloft outside the school. Baughman said those wishing to donate may do so online by visiting the middle school's website through the "donor portal." He said checks would be welcomed at Friday's finale.
Some 30 students have volunteered to be part of the Mini-THON effort, along with multiple faculty members, led by Jessica Whipple and Jaime Kessinger.
Baughman said some 70,000 students across the Northeastern United States are involved in the movement against childhood cancer, the leading disease killer of children. He noted Four Diamonds supports 70 pediatric oncology research professionals. Additional information is available at www.FourDiamonds.org.