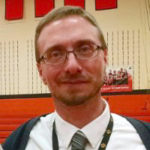 LOCK HAVEN – William H. Mincer has announced he will seek the Democratic nomination in the May 19 Primary to represent Keystone Central School District Region VII, comprised of Lock Haven's Third and Fourth wards.
Mincer currently serves as Director of Sports Camps at Penn State University and was employed as the High School Athletic Director at Jersey Shore Area School District. He holds over two decades of experience as a director of recreation programs, and has experience with school district budgeting and procedures.
A Clinton County native, Mincer graduated from Lock Haven High School. He received his Bachelor of Science degree from Lock Haven University and his Masters of Science degree in Sports Administration from California University of Pennsylvania.
A desire to serve the community and schools has been central to his life; however, Mincer decided to run for school board when U.S. Secretary of Education Betsy DeVos was confirmed.
"As a high school athletic director every decision I made was with our students' best interests in mind, and as your school board director, every decision I make will always be with our students' best interests in mind," Mincer said. "I believe a school board director's role in public education in crucial. It is not a position to settle scores or advance self-interests.  We are there to help educate the next generation and as such I take this position and the responsibilities that come with it very seriously."
Mincer and his wife, Chasity (McCann), have two children, daughter Stacia, a 2016 Central Mountain High School graduate and freshman at Penn State University, and son Peyton, a sophomore at Central Mountain. They attend the Blanchard Church of Christ and  have lived in the city's Fourth Ward, on South Highland Street, since 1997.