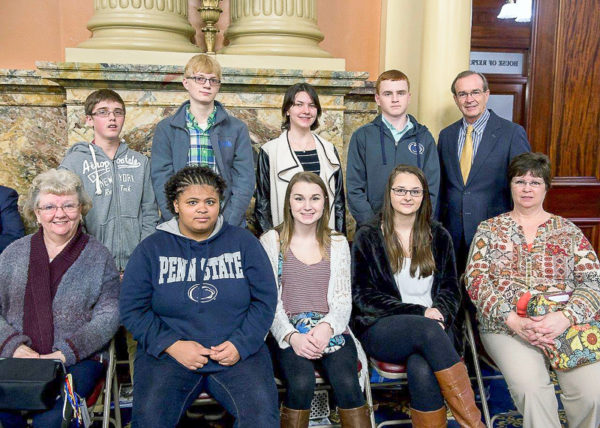 HARRISBURG – Raindrops and an early start to the morning could not deter the Bucktail Youth Leadership Program's trip in April to visit the Commonwealth's Capitol City.
This year's participants, Shiane Acor, Karen Bunsick, Treavor Burrows, Aaliyah McGowan, Sylvia Moore, Benjamin Probert, and Elliot Probst, were met by Kate Eckhart, Communications Director, in Senator Joseph Scarnati's office upon arrival in Harrisburg.  The students were provided a private tour of the Senate Chambers and learned about how legislation is brought before the Senate.   They had photos taken in the Chambers and Senator Scarnati hosted a tour of the Capitol later in the day.
The sophomores then met with Representative Mike Hanna where he talked about his work as the Democratic Whip.   Representative Hanna talked about the value of observing various jobs in government and reminded the group that education takes place everywhere.   Hanna then told the students that one of the most important aspects of leadership is the ability to be a good listener and to step up into leadership roles when opportunities present themselves.  Hanna's legislative aid, Adam Wagonseller, then escorted the group to receive special recognition as they were individually introduced from the House Floor.
On the way to lunch at Strawberry Square, the students enjoyed the blooming trees and flowers throughout the walkways around the Capitol.   They then returned to the Capitol and visited the interactive Welcome Center and participated in a guided tour, which included a history lesson on the artwork and origins of many of the antiques in both the House and Senate Chambers.   The students were accompanied for the day by Merry Ann Olshefskie, Gwen Bechdel, and Rich Wykoff.
The last stop in Harrisburg was the State Museum.   The students toured the three floors of the State Museum, participating in a scavenger hunt to discover museum highlights with a focus on Pennsylvania icons, archaeology, and Commonwealth environments around the State.  The day concluded with dinner at the Country Cupboard in Lewisburg.   During the travel time the students received suggestions on how to make a quality presentation in preparation for their up-coming community service project speeches.
The Bucktail Youth Leadership Program is coordinated by Bobbie Jo Simcox and Gwen Bechdel as an activity club at Bucktail High School.  The Leadership Clinton County Program is a generous supporter of the activities of the Bucktail Youth Program.  The mission of the program is to provide educational experiences to help develop awareness in the areas of community, culture, and government.   Each session throughout the nine-month program includes a focus on leadership building, communication, and other life skills activities, and a public speaking component is assigned each time.  The students are expected to gain a better understanding of the society in which they live, realize their own wealth of abilities and interests, and demonstrate how their involvement can impact their communities.