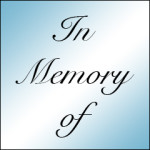 Charles L. Conway, age 91, last surviving member of the Lester W. and Anna Carlson Conway family, passed on April 11, 2017 in Lock Haven, PA. He was preceded in death by his wife Louise Nellis Conway and son Christopher Charles Conway, brothers, Frank W., Herman L., Raymond E., Donald E., John R., and sister, Bertha Conway Remick.
A graduate of Renovo High School, Class of 1944, he was a U. S. Navy Veteran of World War II. Graduating from Augustana College, Rock Island, IL, class of 1950. He was enrolled in the graduate school of biochemistry, University of Pittsburgh prior to accepting a position of research chemist at American Colors, Lock Haven, PA and later as a senior research chemist at Koppers Central Research Center, Monroeville, PA. After accepting a position as senior chemist at Imperials Chemical Ltd, UK, manufacturing facilities in Dighton, MA, Charles served as Department Supervisor of their fiber reactive dyes manufacturing department, department superintendent, Dighton Works and plant technical superintendent of the Dighton Works, process engineering, process technology, dyes application and analytical departments with technical liaison responsibilities to the ICI dyes sales department located in Wilmington, DE, and colors application department located in Charlotte, NC, ICI Research Center, Manchester, UK, and process technology departments at Trafford Parks Works, UK, Huddersfield Works, UK, and Grangemouth Works, Scotland.
An Episcopalian throughout his adult life, Charles served on the vestry, finance committee and as church secretary of the Church of Our Savior, Somerset, MA, and later as vestry member, finance committee member, church treasurer and financial secretary of St. Paul's Episcopal Church, Lock Haven, PA.
During the course of his life , his hobbies included tennis, biking, photography, coin collection, and ceramics.
Charles is survived by his niece, Carolyn Conway Riley (Ben Carl) of Chesapeake, VA, and their daughter Cynthia Anne Stuart (James), as well as cousins who were very close to him including Donna Carlson, Mary Ann Richards Muddiman (Gene), Joan Sackarnoski Stubler and Virginia Haugh Kalberg.
Grave side services will be conducted at the Rest Haven Memorial Park, Lock Haven, PA at the convenience of the family.
Services are under the direction of the Yost-Gedon Funeral Home and Cremation Services, LLC, 121 W. Main St. Lock Haven, PA.
On line thoughts and memories can be made at www.yost-gedonfuneralhome.com