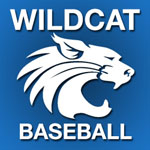 MILL HALL — It was a Heartland Conference midseason showdown at Mill Hall Community Park Monday and host Central Mountain was locked in a 1-1 tie with Selinsgrove with two batters out in the bottom of the second, the home team at bat. And then the game changed.
Seals' sophomore starter Blake Zeiders ran into a rough patch: walk, hit batter, walk, walk, hit batter, followed by a clutch 2-run single from Austyn Carson. By the time the third out was recorded Central Mountain had scored five runs and never looked back, on the way to a 12-2 6-inning win.
The victory gave the Wildcats, 5-4 overall, undisputed possession of first place with a 4-1 league mark. Selinsgrove (5-4) fell to 3-2 with the loss. It also avenged CM's only league loss of the year, 7-6 in eight innings at Selinsgrove on April 3.
Central Mountain added three more in the fourth as Trevor Hanna, Asher Corl, Carson and Mahlik Houtz strung together four line-drive singles to stretch the lead to 9-1. The 'Cats would close the game out with three more in the bottom of the sixth, the big hits a leadoff double from Corl and a game-ending RBI single from Evan Prough.
The heart of the CM batting order came through, paced by Corl's 3-for-3 with two singles, a double, two RBIs and three runs scored. Carson was batting in the clean-up spot for the first time and went 3-for-4 with three singles and three runs batted in. Hanna, Houtz and Prough all had a single each.
The Wildcats backed their two pitchers with an error-free performance, sparked by a spectacular backhand grab of a line drive by shortstop Carson and a throw-out at home plate from centerfielder Brandon Miller to catcher Corl. Ethan Watkins worked the first five innings to pick up the win, giving up five hits and one run, striking out three and walking one. Tanner Spangler provided one inning of 1-run relief.
Central Mountain has another key Heartland game set for Wednesday at 4:30 p.m. at Jersey Shore (2-2; 4-5).
| | | | | | | | | | | |
| --- | --- | --- | --- | --- | --- | --- | --- | --- | --- | --- |
| April 24, 2017 | 1 | 2 | 3 | 4 | 5 | 6 | 7 | R | H | E |
| SELINSGROVE | 1 | 0 | 0 | 0 | 0 | 1 | X | 2 | 6 | 5 |
| CENTRAL MOUNTAIN | 1 | 5 | 0 | 3 | 0 | 3 | X | 12 | 9 | 0 |