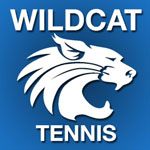 JERSEY SHORE – Central Mountain (8-4) boys' tennis traveled to Bulldog Country for a PHAC match today and prevailed 4-1 over Jersey Shore.
In No. 1 singles action, CM's Matt Schubach defeated 'Shore's Dominic Maneval, 6-1, 6-3 with Wildcat, Raahi Chapla taking down Bulldog, Alex Trunzo, 6-2, 7-5 in the battle of No. 2s. Then at No. 3 Central Mountain's Matt Marasco took care of Jersey Shore's, Mike Walker, 6-1, 6-0.
CM's tandem of Micah Brinker and Thomas Cygan defeated 'Shore's, Zeke Miller and Niall Lanks, 6-2, 4-6, 6-4 ay No. 1 doubles followed by Jersey Shore's Dylan Leitch and Luke Maneval pulled out the tie-breaker to topple the Wildcats Morgan Talbot and Yash Adroja, 6-2, 3-6, 7-5 at No. 2 doubles.
Next, the Wildcats will travel to District 6 foe, Altoona on Wednesday, April 24, 2017.
CENTRAL MOUNTAIN 4 JERSEY SHORE 1
1 Matt Schubach CM def Dominic Maneval 6-1 6-3
2 Raahi Chapla CM def Alex Trunzo 6-2 7-5
3 Matt Marasco CM def Mike Walker 6-1 6-0
1D Micah Brinker/Thomas Cygan CM def Zeke Miller/Niall Lanks 6-2 4-6 6-4
2D Dylan Leitch/Luke Maneval JS def Morgan Talbot/Yash Adroja 6-2 3-6 7-5