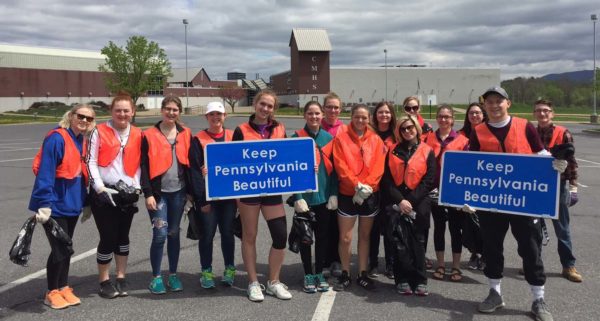 BALD EAGLE TOWNSHIP — The Central Mountain High School Student Government Public Relations Committee held a "Great American PA Cleanup" on Earth Day, April 22.
Students collected garbage along Route 150 from CMHS to Mill Hall Community Park, along Fishing Creek, Lock Haven Hospital and SusqueView Home. The event was registered with Keep PA Beautiful and PennDot supplied the students with gloves, vests, and garbage bags. In total, over 25 bags of garbage and miscellaneous debris were collected from all sites.
This is the second annual clean up for the students and PR Chair, Rachel Weaver hopes to see it continue to grow. "Our community is so beautiful and we want to keep it that way" Weaver said. "We want to have an impact and want the community to know we care" she continued.
Participating students: Quinn McCluskey, Connor Eisenhower, Jocelyn Wallace, Mallory Yost, Alyssa Dickey, Megan Yost, Madalyn Bashore, Lauren Stiening, Kristina Shope, Chelsie Haines, Jolee McCluskey, Jen Connor, Brody Baker, and Rachael Karwowski. Students were chaperoned by Heather Boyle and Angela Harding.