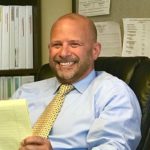 LOCK HAVEN – There is a new face in the Clinton County District Attorney's Office. Michael D. Angelelli has been named the new Assistant District Attorney, effective at the beginning of April. Angelelli previously served as the solicitor for Clinton County Children and Youth Services and for the Clinton County Domestic Relations Office for 23 years.
Clinton County District Attorney Dave Strouse recently announced the personnel changes in his office following the resignation of Assistant District Attorney, Kathleen C. Long. "Earlier this month Kathleen Long left her position in order to relocate with her family in New York," Strouse said. "She was a valuable asset to this office and a staunch advocate for the people of Clinton County. She will be greatly missed by everyone, and I know she will do well in whatever is next for her."
Angelelli said he is ready to get to work: "I'm very excited to move to the District Attorney's Office and look forward to doing my part to protect the residents of Clinton County. "
Strouse added, "We are fortunate to have the ability to bring in an attorney with the courtroom acumen and work ethic of Mike Angelelli. He is an experienced attorney that has handled thousands of cases. The people of Clinton County should be happy to have someone of Mike's ability taking the position as Assistant District Attorney. "
The District Attorney's Office handled over 800 cases in 2016 and has had 200 cases so far in 2017.