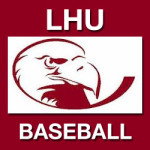 LOCK HAVEN – The Lock Haven University baseball team (27-11, 13-7 PSAC East) rebounded from Friday's sweep at Millersville University (26-14, 10-10 PSAC East) in a big way, as the Bald Eagles returned the favor and picked up a pair of 3-1 victories in a sweep of their own on Saturday.
With the sweep of No. 24 Millersville, Lock Haven improved to 27-11 on the season and pushed its Pennsylvania State Athletic Conference (PSAC) East record to 13-7.
Millersville and Lock Haven entered the weekend ranked No. 5 and No. 3, respectively in the most recent National Collegiate Baseball Writers Association (NCBWA) Atlantic Region poll.
The two wins also helped third-year head coach Jim Chester record his 300th overall head coaching win. Prior to LHU, Chester coached at Penn State Greater Allegheny and Mercyhurst North East.
The 27 wins are the most in a single season since LHU won 27 in 1997. Only twice before has Lock Haven won more games in a single season: 2001 (29) and 2000 (30).
Pitcher Jacob Belinda (Port Matilda, Pa./Tyrone) was the story in the 3-1 game-one win. He returned to the mound and threw seven innings of three-hit ball. Belinda struck out eight, running his career strikeout number to 185, which is No. 5 all-time on LHU's career-strikeout list.
Hunter Szaflarski (Greencastle, Pa./Hagerstown Community College) had LHU's big bat and he finished 2 for 2 with two RBIs and two runs scored. He hit a two-run home run in the bottom of the third, which proved to be huge for Lock Haven.
In game two, Lock Haven got another strong effort from the pitching staff. Starter Brett Morrison (Duncannon, Pa./Susquenita) went five innings, while scattering Millersville's only five hits. He struck out five and walked only one. Nick Hornbaker (New Holland, Pa./East Stroudsburg Univ.) worked the sixth and picked up the win after a hitless sixth inning, and Breton LaRose (Ogdensburg, N.Y./Sacred Heart) recorded the save after a strong seventh inning of no-hit action.
Szaflarski drove in a run in the fifth to tie the game at 1-1 and Jamie Eshleman (Lewisberry, Pa./Redland) broke open the game for good in the sixth.
With two outs and a full count, Eshleman doubled to right-center field, driving in a pair of runs.
Eshleman was 2 for 3 at the plate.
LHU will host IUP on Tuesday (April 25) at 2 p.m. in a single nine-inning game.