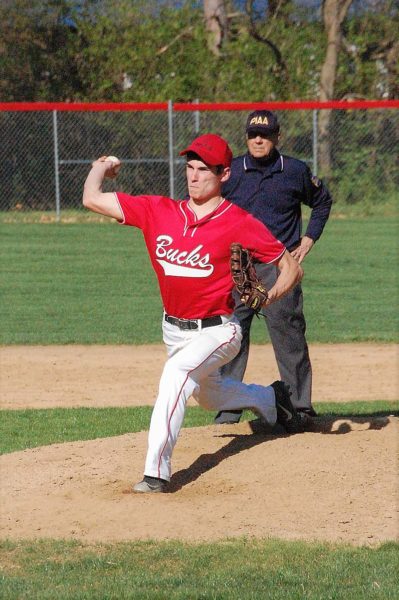 By Jim Morgan
FARWELL—The Sugar Valley Rural Charter School Phoenix picked up their first win of the season on Tuesday of this week, traveling to Bucktail and defeating the Bucks by a 10-3 score.
The victory put Sugar Valley at 1-2 on the season. The Loganton-based school plays a 13 game schedule, all on the road. The two Clinton County schools are scheduled for a rematch at Farwell May 15.
Meanwhile Bucktail (0-6) baseball has found themselves on the wrong end of the scoreboard. They have been increasing their playing time in each game. The first game of last week against Montgomery was only a four inning game as the Red Raiders won 12-0. The Red Raiders struck out 8 of the 13 batters that Bucktail had at the plate.
The only players able to reach base for the Bucks were Devin Serafini and Ben Probert as they both were walked. Bucktail pitchers allowed ten walks and gave up 9 hits to Montgomery.
The next game against Muncy saw the Bucks go five innings as they lost to the Indians 10-0.
Tuesday was an old rival from the valley as Sugar Valley Charter School came to Bucktail and defeated the Bucks 10-3. Mike Casper tried to keep SV in check from the mound as he had 7 of the total 12 strikeouts for Bucktail in five innings. With Casper being removed from the mound, it was only a 5-1 game with SV on top. Pitching is a big problem for the Bucks this season as the visitors combined for 15 hits.
SV would score four runs in the third inning as Bucktail would answer back with one run of their own. Blake Cannon would lead off the inning with a walk. Serafini would have a RBI single. With SV adding two more runs in the seventh inning, it looked like that would be the end to the Bucks with the score 10-1. Bucktail would not give in yet.
Casper would come up with a double and score on a passed ball. John Francis would get on base by an error as Richard Perry laced a ball to rightfield for a RBI, Perry trying to reach third on the hit would get thrown out at third base. Serafini would have two hits with Casper; Tanner and Tyler Riggle with Arron Lucas all with singles
Coach Bill Probst said it is time for patience, "I have a lot of young players who have not played the game in a couple of years. They just do not understand the positions that they are facing throughout the game. There is not enough time with practices to work on all of these problems because of the game schedule and when games get cancelled, it is even harder."
Bucktail will play at home on Friday against Sullivan County. Then on Monday Bucktail will travel to St. John Neumann. On Wednesday, Bucktail will travel to Benton and all games will start at 4:30 p.m. Bucktail Junior High will have a home game on Monday against St. Marys starting at 4 p.m., an addition to the schedule.