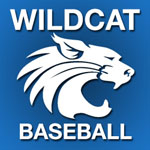 ALTOONA – Central Mountain (4-4, 3-1) dropped a 4-3 nail-biter to the Altoona Mountain Lions in another non-league District 6 matchup.
The Wildcats had a late rally in the top of the seventh inning when pinch hitter, Bobby George reached first on a walk followed by a double from Brandon Miller that set up Asher Corl for a 2-RBI double of his own to narrow the gap to 4-2 Altoona. Corl advanced to third on a ground out by Troy Gardner and scored on a base hit by Mahlik Houtz. With the tying run now on first base, a ground out by Evan Prough ended the threat and the game.
The Wildcats missed another scoring opportunity in the second inning when, with two outs on the board, Altoona pitcher, Braedon Burchfield, loaded the bases on three consecutive walks to Trevor Hanna, Ethan Watkins and Landon Breon before a pop out by Zach Eck ended the inning.
In the bottom of the second Altoona scored their first run on a homer by Elliot Mast. The Mountain Lions added another run on a sac fly in the bottom of the third inning. The Altoona lead increased to 4-0 on a 2RBI double by Jake Stalarski in the bottom of the fourth inning.
There were several bright spots for the Wildcat defense including a nice throw down to pick off a larcenous Altoona base runner when Asher Corl made a great throw to shortstop, Trevor Hanna who made a clean tag on the Mountain Lion's Casey Sheetz on the steal attempt. Then in the bottom of the sixth inning, it was a classic 4-6-3 double play when second baseman, Evan Prough snagged a ground ball tossing it to shortstop, Austyn Carson for the force at second, then relayed the ball to Landon Breon at first to retire the side.
It was Ethan Watkins on the mound to start the game for the 'Cats once again. Watkins pitched 4 2/3 innings giving up 8 hits, 1 walk while striking out four Altoona batters. Trevor Hanna closed out the game for CM allowing 2 hits in 1 1/3 innings of work.
Getting hits for Central Mountain on the day were: Austyn Carson, single and a double; Mahlik Houtz 2 singles; Brandon Miller and Asher Corl each had a double with Trevor Hanna hitting a single.
The Wildcats are off until Friday, April 21, 2017 when they travel to Shikellamy for their next PHAC contest.
| | | | | | | | | | | |
| --- | --- | --- | --- | --- | --- | --- | --- | --- | --- | --- |
| April 18, 2017 | 1 | 2 | 3 | 4 | 5 | 6 | 7 | R | H | E |
| CENTRAL MOUNTAIN | 0 | 0 | 0 | 0 | 0 | 0 | 3 | 3 | 7 | 1 |
| ALTOONA | 0 | 1 | 1 | 2 | 0 | 0 | X | 4 | 10 | 1 |