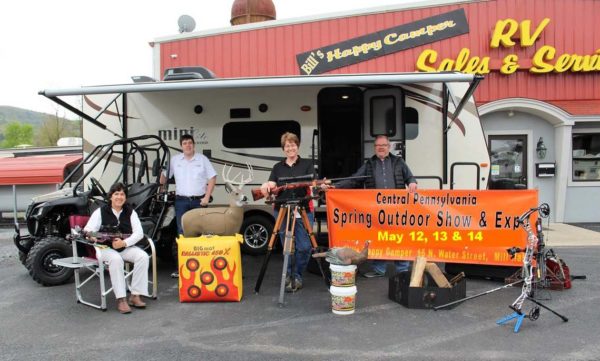 MILL HALL – The second annual Central Pennsylvania Spring Outdoor Show will be held locally in mid-May. The three-day event at Bill's Happy Camper RV Sales & Service, 15 North Water Street in Mill Hall, is scheduled Friday through Sunday, May 12, 13 and 14.
The Outdoor Show opens at 12 noon all three days, and runs until 8:00 p.m. Friday and Saturday, and 5:00 p.m. on Sunday. Admission and parking are free.
Three local, long-established recreational businesses are heading up the event. In addition to Bill's Happy Camper, Miller's Gun Shop and Dotterer Equipment, Inc., are key sponsors.
All three businesses offer a wide range of outdoor and recreational equipment. Bill's Happy Camper will showcase all sizes of campers and RVs at the show. The business also offers parts and accessories for camping. Miller's Gun Shop will exhibit a range of shooting sports products, from bow and gun lines, to smaller items such as targets. Dotterer Equipment will showcase a variety of outdoor power equipment, including ATVs and Side by Side ATVs, motorcycles, tractors and lawn mowers.
Bill Miller of Bill's Happy Camper says the group is excited about this year's show.
"The three businesses got together last year to give the idea of an outdoor show a try locally, and we had a really good response – there was a lot of interest. We're working to grow the show this year by adding more vendors, and partnering with some organizations interested in offering educational seminars."
In addition to the three core sponsors, a variety of other outdoor and recreational exhibitors, food vendors, informational seminars and entertainment will round out the show. Exhibitors already on board include Night Stalking Hunting Accessories, Discount Pool and Spa World, May Fly Guy, JSL Products, JJ Peters Disposal, First Citizens Community Bank, Central Mountains ATV Association, Jeff Donoughe Chainsaw Carving, Liberty Township Sportsmen's Association, Keystone Elk Country Alliance, and the Clinton County Economic Partnership's Visitor's Bureau.
There is limited exhibitor space still available, so additional exhibitors are welcome. Information is available through Bill Miller at 570-726-7400 or mbrv512@gmail.com. The deadline for exhibitor registrations is April 28.
One seminar that is expected to draw a good deal of interest is a Concealed Carry session that will be held Saturday from 2:00 to 4:00 p.m. The free informational seminar is being organized by Clinton County Sheriff Kerry Stover and District Attorney David Strouse and will be patterned after programs held locally by State Representative Mike Hanna in conjunction with the County Sheriff and District Attorney's offices, Pennsylvania State Police and local police, and the PA Game Commission.
The Outdoor Show will also feature musical entertainment. Friday evening, the Clark McLane Band will play what they call their brand of "folked up new grass." Saturday afternoon, Mama Corn bluegrass band, a central Pennsylvania favorite, will entertain.
For information on the Outdoor Show, visit www.centralpaspringoutdoorshow.com.