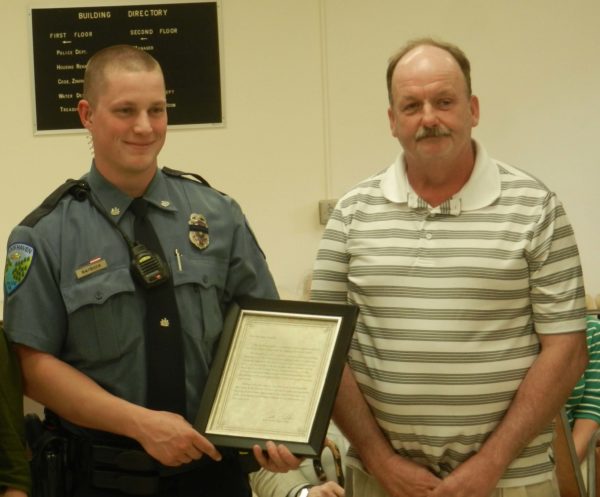 LOCK HAVEN — Quick action by a Lock Haven patrolman is credited with saving the life of a hill district resident and that officer, Adam Raybuck, was recognized by City Council at its meeting Monday night.
Raybuck was on duty the night of Nov. 22 of last year when he responded to a call of cardiac arrest at the W. Third Street home of Morris Barrett. Raybuck was first on the scene and immediately began CPR on Barrett who was found without an apparent pulse. His efforts sustained Barrett until EMS personnel arrived to provide further treatment.
Officer Raybuck is also an emergency medical technician. Police chief Keith Kibler presented Raybuck with a letter of commendation and a lifesaving ribbon. Barrett and his wife Debra, along with Raybuck family members, were present for the special presentation. Barrett thanked the city patrolman, stating "I owe this man my life."
Mayor Bill Baney joined in the recognition for Raybuck, lauding city police for their efforts and noting the close proximity of EMS services in the immediate Lock Haven area.
The commendation to Raybuck states, "If not for your quick response and appropriate life-saving measure Morris Barrett may not have survived this event. Your actions are in keeping with the highest traditions of law enforcement; we honor your service."