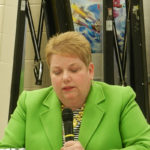 BALD EAGLE TOWNSHIP — Based on a show of hands at a Thursday night Keystone Central School Board finance committee meeting, there will not be any additional cuts in next year's school budget.
After a two-hour public finance committee meeting, committee chairman Jeff Johnston asked for a show of hands from fellow board members as to their support for the budget first unveiled at a board meeting a week ago. Five board members offered their support: Johnston, board president Butch Knauff and board members Wayne Koch, Tom Shafer and Greg Strouse.
That means a majority of board members likely will support the $77 million proposal unveiled last week; it calls for spending cuts, a tax increase and a $5.71 million drawdown from the district reserve fund. A first official board vote on the budget will come at the board's May 18 meeting.
That same show of hands indicates there is not sufficient support for another $2 million in cuts. Those prospective cuts detailed Thursday night were created in response to a board request at last week's meeting for possible additional budget pruning. Superintendent Kelly Hastings said the new, additional cuts offered Thursday night were not recommended by the administration.
Those options included doing away with all district librarians, elimination of district elementary art teachers and the district's music string program at the elementary level; other cuts presented for consideration were elimination of junior high sports district-wide and a full co-op program for Bucktail and Central Mountain High Schools, in effect the end of Bucktail High School sports.
Based on the 5-3 show of hands for the April 6 budget, the new cuts unveiled Thursday night will not be instituted. Indicating they favored additional cuts and not voting for the original budget were Roger Elling, Charlie Rosamilia and Debra Smith. Rosamilia reiterated his statements from a week ago when he said district spending was out of control. Johnston countered that statement made for a "good sound bite" but argued that much of the district's financial dilemma was the result of matters it could not control.
Rosamilia and Smith voiced what they said were constituent concerns that the district has too many administrators; Elling questioned the value of the district's Pre-K program now in its first year of operation. Board member Albert Jones was not present.
A dozen or so community members made public comments. Some questioned the Pre-K program, some strongly supported the program. One speaker, Tom Tarantella, offered the board public support to try and find additional savings. Johnston and board president Knauff both indicated the district needs to start as soon as this July to search for new ways to save money as the district's reserve fund has been greatly diminished in recent years.