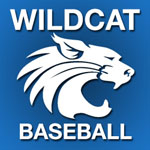 BELLEFONTE — Two longtime successful District 6 baseball programs met under near perfect playing conditions at Bellefonte Wednesday and both visiting Central Mountain and the host Red Raiders played outstanding ball until the Wildcats finally persevered, going eight innings to pull out a 4-1 win.
For the winning Wildcats it was victory number four in a row after an uncharacteristic 0-3 start. For Bellefonte, PIAA champions in Class 3A a year ago, it was a hard-luck loss, leaving the Raiders at 4-2 on the year.
Both starting pitchers were superlative. Wildcat senior starter Ethan Watkins went 6 1/3 innings, allowing 6 hits and 1 run while striking out 6 and walking one. His Bellefonte counterpart, junior Adam Armstrong, was equally impressive, putting up six innings of 4-hit ball, surrendering 1 run while striking out 9 and walking 3.
It was an Armstrong walk in the top of the first inning to Central Mountain's Brandon Miller which led to the first Wildcat run. Austyn Carson sacrificed Miller to second; he advanced to third on a wild pitch and came home on an RBI single to left from Asher Corl.
Bellefonte answered back with a run in the bottom of the second; Dylan Deitrich led off with a triple to straight-away center and scored on an infield groundout off the bat of Garrett Reiter. The score remained tied at 1-1 through seven innings of regulation play.
The Wildcats' top of the lineup would account for 3 runs in the top of the eighth off reliever Tyler Kreger: Miller led off the inning with a bullet to right-center field for a double; Carson again laid down a sacrifice bunt and Bellefonte mishandled the ball, allowing Miller to score the go-ahead run, Carson advancing to second. CM would add two more, one on Corl's second RBI single; another on an infield groundout off the bat of Mahlik Houtz.
Junior Tanner Spangler, who came on in relief of Watkins in the seventh inning, shutdown Bellefonte in the bottom of the eight, surrendering a 2-out single followed by a groundball out to end the game at 4-1 in favor of the Wildcats. For Spangler it was his first varsity win.
Watkins and Spangler were helped by the CM defense. Second baseman Trevor Hanna collaborated with shortstop Carson to turn a 4-6-3 double-play in the bottom of the fifth. And the Wildcats received a scare in the bottom of the seventh when Spangler first entered the game with one out and no one on. Bellefonte picked up a walk and a single to set-up the winning run on second base. But Raider leadoff hitter Kreger lined a shot to Houtz at third base who fired to Hanna at second to double off the runner and end the Raider threat.
Miller with his two doubles and two runs scored and Corl with his two RBI singles were the only Wildcats with multiple hits. Houtz and Hanna each added singles. Cade Fortney paced Bellefonte with two singles and a walk.
Central Mountain is off until next Tuesday, April 18, when they travel to Altoona (2-2).
| | | | | | | | | | | | |
| --- | --- | --- | --- | --- | --- | --- | --- | --- | --- | --- | --- |
| April 12, 2017 | 1 | 2 | 3 | 4 | 5 | 6 | 7 | 8 | R | H | E |
| CENTRAL MOUNTAIN | 1 | 0 | 0 | 0 | 0 | 0 | 0 | 3 | 4 | 6 | 2 |
| BELLEFONTE | 0 | 1 | 0 | 0 | 0 | 0 | 0 | 0 | 1 | 8 | 3 |