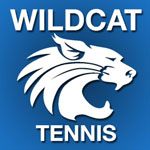 SUNBURY – What a difference a day makes. Just 24 hours after suffering a shut loss to Pennsylvania Heartland Athletic Conference leader, Williamsport, Central Mountain boys' tennis turned the tables on Shikellamy to secure a one-sided 5-0 victory of their own to move to 4-3 on the season.
Leading the way at No. 1 singles for the Wildcats was Matt Schubach winning over Jacob Mouery of Shik, 6-3, 6-0. At No. 2, Wildcats, Raahi Chapla defeated Jordan Reid, Shikellamy, 6-0, 6-1. Then at No. 3 Central Mountain's Matt Marasco took care of the Brave's, Chris Timblin, 6-2, 6-0.
In No. 1 doubles action, CM's Micah Brinker and Thomas Cygan defeated Shik's Cameron Crowley andGage Kratzer, 6-2 6-1. Then at No. 2 doubles, the Wildcat duo of Morgan Talbot and Yash Adroja took care of their Brave counterparts, Elijah Taylor and Darell Lyles, 6-4, 6-1.
Neither team will have long to celebrate their win or contemplate their loss as they will meet again tomorrow, Wednesday, April 12, 2017 when the Wildcats will host the Braves at Central Mountain.
CENTRAL MOUNTAIN 5 SHIKELLAMY 0
1 Matt Schubach def Jacob Mouery 6-3 6-0
2 Raahi Chapla def Jordan Reid 6-0 6-1
3 Matt Marasco def Chris Timblin 6-2 6-0
1D Micah Brinker/Thomas Cygan def Cameron Crowley/Gage Kratzer 6-2 6-1
2D Morgan Talbot/Yash Adroja def Elijah Taylor/Darell Lyles 6-4 6-1