This slideshow requires JavaScript.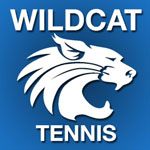 BALD EAGLE TOWNSHIP – Central Mountain (3-3) hit a rough spot in the schedule hosting Pennsylvania Heartland Athletic Conference leader, Williamsport, falling 5-0 in the process.
The Millionaires swept the singles matches beginning with Kevin Zheng defeating CM's Matt Schubach, 7-5, 6-4 at No. 1. Then at No. 2, the Millionaire's Lukas Radulski took care of the Wildcat's Raahi Chapla 6-0 6-2. Williamsports's Ty Jackson beat Central Mountain's Matthew Marasco, 6-1, 6-2 at No. 3.
In doubles action it was more of the same with Williamsport's Joe Dinsmore and Will Knauth defeated Central Mountain's Micah Brinker and Thomas Cygan, 6-0, 3-6, 7-5 at No 1. In No, 2 doubles it was Williamsport's Tiarnan Ferry and Mike LeBlanc victorious over CM's Morgan Talbot and Kaden Powers, 6-1, 6-2.
The Wildcats will next see action on the road tomorrow, April 11, 2017, at Shikellamy.
WILLIAMSPORT 5 CENTRAL MOUNTAIN 0
1 Kevin Zheng def Matt Schubach 7-5 6-4
2 Lukas Radulski def Raahi Chapla 6-0 6-2
3 Ty Jackson def Matthew Marasco 6-1 6-2
1D Joe Dinsmore/Will Knauth def Micah Brinker/Thomas Cygan 6-0 3-6 7-5
2D Tiarnan Ferry/Mike LeBlanc def Morgan Talbot/Kaden Powers 6-1 6-2