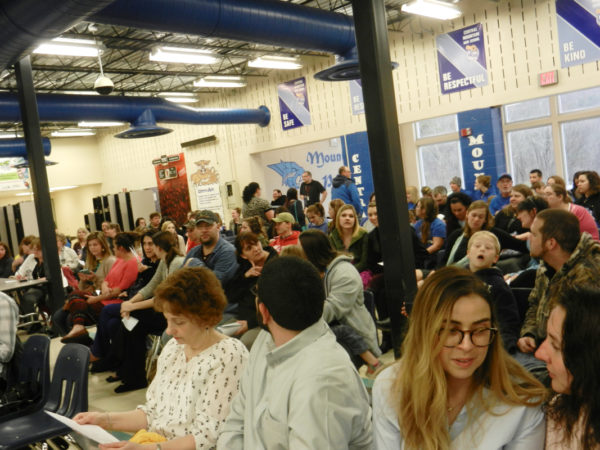 BALD EAGLE TOWNSHIP — The Keystone Central School District is looking at a combination of spending cuts, a tax increase and tapping the district's reserve as it seeks to come up with a balanced budget for the next fiscal year.
The school board and district administration spent two hours at a well-attended finance committee meeting Thursday discussing ways to cover a projected multi-million dollar deficit for next year.
As per information at the meeting, the proposed budget next year would amount to just over $77 million. Revenue would $71.3 million, leaving a deficit of $5.71 million. As proposed, the district would cover that $5.71 million deficit from its reserve fund, leaving $6 million in reserve.
If approved by the board, school district property owners in Clinton County will see a real estate tax hike of 2.64 percent, in Centre County 2.92 percent and 2.1 percent in Potter County.
The proposed budget calls for cuts of $3.63 million coming from a variety of sources; the largest savings of $2.05 million by reducing all discretionary budgeting to zero for one year.
Board members called on the administration to come up with additional cuts as the budget process continues. They agreed to another finance committee meeting Thursday, April 13 at 6 p.m. at Central Mountain High School.
Board member Charlie Rosamilia said the budget needs "substantially more cuts," calling for paring another $2 million. District officials warned additional cuts will cut into personnel. Superintendent Kelly Hastings said the administration has tried to avoid harming programs and personnel in cutbacks proposed to this point.
The cafeteria was jammed for the meeting, including many parents from the Liberty-Curtin/Dickey elementary school attendance areas, concerned about rumors their schools could be closed as part of any consolidation. They were assured there are no such plans.
Board president Butch Knauff said the district is looking at "redistricting" students to see if savings could result. Options under consideration include moving fifth graders in the lower of the district from their elementary schools to the Central Mountain Middle School and middle school eighth graders to Central Mountain High School.
Curriculum director Terry Murty made a presentation on district student test scores, which he said have shown significant improvement in the most recent testing period.