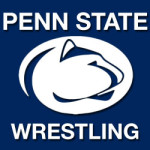 ST. LOUIS – Sophomore heavyweight Nick Nevills (Clovis, Calif.) took home a fifth-place finish in session five of the 2017 NCAA Wrestling Championships as the lone Nittany Lion competing in the session. With the tournament still in progress, and barring any disqualifications, the Penn State Nittany Lion wrestling team has clinched its sixth NCAA National Championship in the last seven years and its second straight. Five Penn Staters prep for the NCAA Championship Finals tonight, which airs live on ESPN at 8 p.m. Eastern.
With the bulk of Penn State's line-up preparing for the national finals tonight, the Nittany Lions still clinched the team title as session five played itself out. Sanderson's squad heads into the finals with 122.0 points, 16.0 in front of second place Ohio State's 106.0 and third place Oklahoma State's 99.0. Penn State has five finalists, Ohio State two and Oklahoma State one. Penn State won the title at Madison Square Garden last season and now owns seven NCAA team crowns (1953, 2011, 2012, 2013, 2014, 2016, 2017).
Nevills, the No. 5 seed at 285, took on No. 3 Ty Walz of Virginia tech in the consolation semifinals. Walz shot low off the start, gaining control of Nevills' ankle. The Hokie finished off the takedown to lead 2-0 at the 2:20 mark. Nevills escaped quickly and action resumed in the center circle. Nevills worked his way in on a low single, forcing a scramble on the NCAA logo that ended with a reset. Trailing 2-1, Nevills chose down to start the second stanza and quickly escaped to a 2-2 tie. Walz added a second takedown to lead 4-3 after two periods. Walz chose down to start the third period and quickly escaped to a 5-3 lead. Nevills got in on a low single at the 1:30 mark but Walz was able to force a stalemate and hold his lead. Nevills nearly scored again on a counter takedown with :40 left but Walz was able to get to his feet and maintain the edge.
Nevills met No. 4 Jacob Kasper of Duke in the fifth place match in a rematch of a quarterfinal bout won by Kasper 3-1. Nevills and Kasper battled evenly for nearly the full first period before Kasper locked Nevills at the chest and took him to the mat for a late takedown to lead second 2-0 after three minutes of wrestling. Nevills chose down to start the second period and quickly escaped to a 2-1 deficit. Nevills worked his way into a low single and scramble, finishing off the takedown with :10 left in the period to lead 3-2 after two. Kasper chose down to start the third period and quickly escaped to a 3-3 tie. The duo battled evenly for the rest of period and the bout moved to a sudden victory period. As the extra period started, the two met head first in the middle of the mat and Kasper called for an injury timeout. After action resumed, Nevills chose down on the reset and steadily worked his way free for an escape and a 4-3 sudden victory win, taking fifth place as the No. 5 seed.
Nevills' 1-1 mark in session five gives Penn State a 30-6 mark heading into the finals tonight. The Nittany Lions have 28.0 bonus points of four majors, eight technical falls and six pins. Penn State has clinched its second straight NCAA title, sixth in the last seven years, and seventh overall. The Nittany Lions will have five wrestlers competing in the NCAA finals for the fourth time in the last six years (2012, 2013, 2016 and 2017) tonight. The Nittany Lions, with six All-Americans this year, now have 206 all-time All-Americans, 43 of those have come under Sanderson's tutelage.


The 2017 NCAA Wrestling Championships end tonight with the NCAA Championship Finals. Penn State's five finalists will be the five final bouts of the evening. Junior Zain Retherford (Benton, Pa.), the No. 1 seed at 149, takes on No. 3 Lavion Mayes of Missouri at 149. Sophomore Jason Nolf (Yatesboro, Pa.), the No. 1 seed at 157, meets No. 3 Joey Lavallee of Missouri at 157. Red-shirt freshman Vincenzo Joseph (Pittsburgh, Pa.), the No. 3 seed at 165, meets No. 1 Isaiah Martinez of Illinois. True freshman Mark Hall (Apple Valley, Minn.), the No. 5 seed at 174, takes on No. 3 Bo Jordan of Ohio State at 174. Sophomore Bo Nickal (Allen, Texas), the No. 2 seed at 184, takes on No. 1 Gabe Dean of Cornell at 184 in the final bout of the evening. The order of the finals was voted on during the tournament by the fans.
Nevills went 5-2 in the tournament and placed fifth as the No. 5 seed. He closes out his season with a 25-8 mark, including seven pins. With six All-Americans out of its eight competitors, Penn State also received critical team points from senior Jimmy Gulibon (Latrobe, Pa.) at 141. Gulibon picked up critical points for Penn State, going 3-2 with a technical fall and a major. The lone senior in Penn State's line-up, Gulibon ends his Lion career with a 75-47 record and was a 2015 All-American at 133 pounds. Junior Matt McCutcheon (Apollo, Pa.) was also crucial in Penn State's title run. McCutcheon went 2-2 with a pin for Penn State, advancing to the 'round of 12'.
Tonight's individual title bouts begin at 8 p.m. Eastern / 7 p.m. Central and air live on ESPN.
2017 NCAA Championships – Team Standings (top five) after Session 5:
March 17, 2017 – Scottrade Center – St. Louis, Mo.
1: PENN STATE – 122.0
2: Ohio State – 106.0
3: Oklahoma State – 99.0
4: Iowa – 93.0
5: Missouri – 82.5