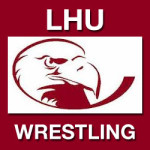 ST. LOUIS – The Lock Haven University wrestling team wrapped up its run at the 2017 NCAA Division I Championships, hosted in the Scottrade Center in St. Louis. It was redshirt-sophomore Thomas Haines' (Quarryville, Pa./Solanco (Ohio State)), who led the way for the Bald Eagles at the NCAA Tournament as he picked up a pair of wins over two days of action.
Haines went 2-2 overall, but was eliminated from the tournament after a second loss today in Session III. Redshirt-junior Ronnie Perry (Christiana, Pa./Solanco) was also in action today , but lost his only bout of the day and was eliminated after going 1-2 overall.
Both Perry (141) and Haines (285) – former high school teammates at Solanco High School – went 1-1 yesterday to advance to Day 2 action.
Haines, the No. 14 seed at 285, opened the day with a pin over No. 13 seed Collen Jensen of Nebraska at the 4:51 mark of their Consolation Round 2 bout. Haines earned a quick takedown in the first, scored two near-fall points and led 6-2 after one period. In the second period Haines started down, but stretched his lead on a quick reversal. Jensen however countered with a reversal of his own. With Haines lead at 8-4, he once again reversed Jensen and quickly flattened him for the pin, which moved him into Consolation Round 3.
Haines advanced to meet Lehigh's Doug Vollaro.
Vollaro scored two first-period takedowns and led 4-1 after one. He stretched that lead to 7-2 after two. Haines rode out the third for a point, but just couldn't tilt Vollaro for any addiontal points – points he needed to pull off the comeback as Vollaro held on for the 7-3 win. The loss eliminated Haines from the tournament.
Haines finished the season at 33-7 overall and went 2-2 in his NCAA Championship debut.
Perry dropped his only match on day two this morning to Jared Prince (Navy), the tournament's No. 16 seed at 141. The loss, Perry's second of the NCAA Championships, eliminated Perry from the tournament. He's now 1-4 all-time at the NCAA Championships after also qualifying a spot in college wrestling's biggest event in 2015. Perry finished this season at 29-8.
Prince downed Perry 10-3. Perry trailed 8-1 after the first period, but he scored a late second-period takedown after working hard for it after getting in on a deep single-leg. Prince however still led 9-3 after two and he added an escape in the third to drop Perry.
Redshirt-freshmen DJ Fehlman (Warren, Pa./Warren) and Kyle Shoop (Boiling Springs, Pa./Boiling Springs) both went 0-2 yesterday and were eliminated from the tournament. Yesterday's action marked the debut for both wrestlers as they each finished off strong seasons. Fehlman and Shoop went 29-11 (133-lbs.) and 38-17 (149-lbs.), respectively.
________________________________________
Day 1 (Thursday, March 16) Recap
________________________________________
LHU Agate:
141: Ronnie Perry | 1-2 | 2X NCAA qualifier (1-4 at NCAA's; career) | finished season 29-8
First Round – vs. #2 seed Kevin Jack (North Carolina State) – L, major dec. 10-0
Consolation Round 1 – vs. Russell Rohlfing (Cal State Bakersfield) – W, dec. 11-6
Consolation Round 2 – vs. #16 seed Jared Prince (Navy) – L, dec. 10-3
285: No. 14 seed Thomas Haines | 2-2 | NCAA Tournament debut | finished season 33-7
First Round – vs. Youssif Hemida (Maryland) – W, dec. 9-3
Round of 16 – vs. #3 seed Ty Waltz (Virginia Tech) – L, 9-5
Consolation Round 2 – vs. #13 seed Collin Jensen (Nebraska) – W, pin (4:51)
Consolation Round 3 – vs. Doug Vollaro (Lehigh) – L, 7-3
133: DJ Fehlman | 0-2 | NCAA Tournament debut | finished season 29-11
First Round – vs. #11 seed Bryan Lantry (Buffalo) – L, dec. 3-1
Consolation Round 1 vs. Corey Keener (Central Michigan) – L, pinned 4:37
149: Kyle Shoop | 0-2 | NCAA Tournament debut | finished season 38-17
Pigtail – vs. Nick Barber (Eastern Michigan) – L, major dec. 10-1
Consolation Pigtail – Michael Hayes (Old Dominion) – L, tech fall 16-1 (7:00)