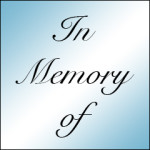 Nevin M. Lamey, 90, of Loganton passed away Friday, March 10, 2017 at Lock Haven Hospital.
Born on March 15, 1926 in Loganton, he was the son of the Lena Fidler Slaterback and the step-son of Edward Slaterback.
Nevin was a Veteran of the United States Navy, serving on the U.S.S. Miami during WWII.
On March 27, 1948, he married the love of his life, the former F. Othea Currin, who he shared 68 years with.
Nevin was employed by Piper Aircraft until its closing.  He then ran his own heating and plumbing business until his retirement.
He was a member of the both the Sugar Valley and Keystone Central School District School Boards, having served as President on both.  Nevin also served as President for the Central Intermediate Unit.
He was a past member of the Jersey Shore Elks.
In his younger years, Nevin enjoyed snowmobiling.
He was a talented plumber and woodworker.
Nevin also loved traveling, and especially cherished the winters that he spent with Othea in Florida after his retirement.
In addition to his wife, F. Othea Lamey, he is survived by three daughters: Kathy Boone of Lock Haven, Lori (Gary) Brungard of Lock Haven, and Kelly (Steve) Conklin of Downingtown; six sisters: Leotta Schrack, Anna Mae Witherite, Helen Bixel, Joann Cole, Sandra Wagner, and Diane Slaterback; six grandchildren, and 3 great grandchildren.
Private services will be held at the convenience of the family.
Memorial contributions in Nevin's name may be made to the Sugar Valley Volunteer Fire Company, 24 W. Anthony St., Loganton, Pa 17747.
Arrangements are under the direction of the Donald G. Walker Funeral Home, Inc., 231 High St., Flemington.
Online condolences may be given by visiting www.donaldwalkerfuneralhome.com