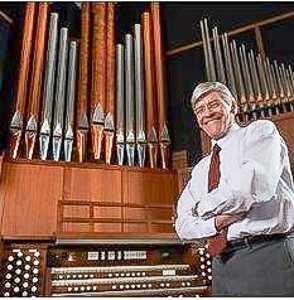 LOCK HAVEN – The third concert of the Friends of the Pipes at Great Island Winter Recital Series will be presented on Sunday, February 26 at 2 p.m. in the church sanctuary at 12 West Water Street, Lock Haven. Phil Maue will provide a program of major works for organ on Great Island Presbyterian Church's digital organ, an instrument that can be connected to the historic pipes in the future and one that he helped to install.
Mr. Maue received his Bachelor of Music and Master of Music degrees from Westminster Choir College, Princeton, New Jersey, where he majored in organ under Eugene Roan and Joan Lippincott. While there he was the accompanist and manager of the Westminster Choir. Phil has been the accompanist under the batons of Maestros Leonard Bernstein, Joseph Flummerfelt, Christopher Keene, William Steinberg and Thomas Schippers playing the piano and organ for large choral works and operas. He also worked and performed at the Festival del due Mondi, Spoleto, Italy, for three seasons as an accompanist, orchestral librarian and manager of the Spoleto Festival Orchestra. He has been the organist and director of music for several churches throughout his career and has served as an organ consultant for many new digital and pipe organ installations.
His program will include familiar works by J.S. Bach, including an arrangement of Ave Maria transcribed by Mr. Maue. Trumpet Tune in A by David Johnson and Adagio for Strings by Samuel Barber will be familiar to many in attendance. Mr. Maue has planned a program in which he juxtaposes the familiar with the less familiar. Many of the pieces are short in duration and are arranged in sets.
"Phil's knowledge of the intricacies of our organ, in particular, will allow him to stretch the limits of its settings," said Christina Frank who schedules the recitals. It was during one of Mr. Maue's visits to inspect the organ at Great Island, when Christina heard him play. "I knew that others would enjoy his music as much as I did so I asked if he'd perform for us."
He is currently the organist for the Welsh United Church of Christ in Shamokin. Additionally, he has been employed as a sales associate in the Church Organ Department of Robert M. Sides Family Music Center in Williamsport since 2008.
Tickets are $15 for adults and $5 for students and will be available at the door. All funds raised are dedicated to the historic pipe organ restoration project at Great Island Presbyterian Church.