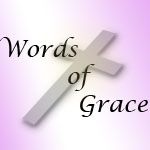 As Moses was leading the people of Israel through the wilderness, there was much discontentment.  When some of the people began to speak against God, and against Moses, "the Lord sent fiery serpents among the people."
Many of the people died after being bitten by the poisonous snakes.  As a result, a group of people came to Moses to confess their sin.  Then they asked Moses to pray that the serpents would be taken away.
When Moses prayed for them, the Lord said, "Make a fiery serpent, and set it upon a pole; and it shall come to pass, that everyone that is bitten, when they look upon it, shall live" (Numbers 21:8)
So Moses did what God told him to do, and it was just as the Lord said.  When any one that was bitten by a serpent looked at the serpent of brass on the pole, he lived.  The remedy was:  look and live.
Jesus reminded Nicodemus of this as they spoke together one night.  "And as Moses lifted up the serpent in the wilderness," Jesus said, "even so must the Son of man be lifted up" (John 3:14).  Look and live.
William Ogden put this into a song when he wrote:  "Look and live, my brother, live!  Look to Jesus now and live; It's recorded in His Word, hallelujah! It is only that you look and live."
In Isaiah 45:22, the Lord says to all the ends of the earth: "look unto Me, and be saved."