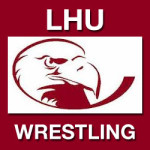 ST. LOUIS – The Lock Haven University wrestling team opened the 2017 NCAA Championships earlier today (Thursday, March 16) and highlighting Session I for the Bald Eagles was Thomas Haines' (Quarryville, Pa./Solanco (Ohio State)) dominating win which came in front of 18, 157 fans at the Scottrade Center in St. Louis.
For Haines, it was his first ever win at the NCAA Tournament, as he was one of three Bald Eagles, who made their NCAA Championship debut in Session I. Ronnie Perry (Christiana, Pa./Solanco) returned to collegiate wrestling's biggest stage after qualifying in 2015. He took a redshirt-season last year.
Haines, the No. 14 seed at 285, moved into the Round of 16 with a dominating 9-3 victory over Maryland's Youssif Hemida. The two met earlier this season in a dual and Haines won that meeting too.
Today, Haines scored a late first-period takedown and led 2-0 after one period. In the second – after starting on top – Haines quickly turned Hemida for four near-fall points as he led 6-3 after two. Haines tacked on another takedown late in the third and cruised to the 9-3 victory.
Haines will face off with No. 3 seed Ty Waltz tonight in the Round of 16.
DJ Fehlman (Warren, Pa./Warren), Perry and Kyle Shoop (Boiling Springs, Pa./Boiling Springs) all dropped their tournament-opening bouts in Session I, but all three will join Haines in action later tonight.
Fehlman opened this NCAA Tournament vs. Bryan Lantry of Buffalo, the No. 11 seed at 133 pounds. Lantry led 1-0 after a quick escape to start the second period and Fehlman tied it in the third on an escape of his own. The difference in the bout was a late third-period takedown from Lantry, who won 3-1.
Perry dropped his opening bout today to Kevin Jack (North Carolina State), the No. 2 seed at 141 pounds, 10-0. Jack led 1-0 after one, but he took control in the second.
In one of the very first bouts of the day, Shoop took on Eastern Michigan's Nick Barber. Barber came away with a 10-1 major decision in a 149-pound pigtail bout. Barber scored two first-period take downs and led 4-1 after one period. In the second – after a neutral start – Barber racked up another takedown and scored a pair of back points. Barber led 8-1 after two.
Session II at the 2017 NCAA Championships gets underway tonight at 7 p.m. EST. Updated brackets and live results can be found at www.TrackWrestling.com. Fans can watch all the action tonight on ESPN.
LHU Agate:
133: DJ Fehlman
First Round – vs. #11 seed Bryan Lantry (Buffalo) – L, dec. 3-1
Consolation Round 1 vs. Corey Keener (Central Michigan) – tonight, Session II
141: Ronnie Perry
First Round – vs. #2 seed Kevin Jack (North Carolina State) – L, major dec. 10-0
Consolation Round 1 – vs. Russell Rohlfing (Cal State Bakersfield) – tonight, Session II
149: Kyle Shoop
Pigtail – vs. Nick Barber (Eastern Michigan) – L, major dec. 10-1
Consolation Pigtail – Michael Hayes (Old Dominion) – tonight, Session II
285: No. 14 seed Thomas Haines
First Round – vs. Youssif Hemida (Maryland) – W, dec. 9-3
Round of 16 – vs. #3 seed Ty Waltz (Virginia Tech) – tonight, Session II