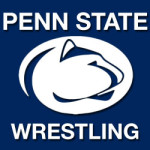 ST. LOUIS — Penn State's hopes for another NCAA title took a hit with word Wednesday afternoon that standout 125 pound wrestler Nick Suriano will not be able to compete when the tournament begins at noon on Thursday in the Scottrade Center.
The announcement came just a few minutes before the team's scheduled press conference featuring coach Cael Sanderson and team member Brian Retherford. Penn State announced that the true freshman Suriano would not be able to compete in this year's NCAA Championships due to an injury. Suriano, who sustained the injury at Oklahoma State in the NWCA Dual Championship, earned an at-large bid after an injury default in the first round of the Big Ten Championships two weeks ago. Earlier this week Sanderson had said Suriano had been working out and was expected to participate.
"We were trying to give him as much time as possible," Sanderson said today. "It was going to be a day-before type of decision and we were trying to get him to a point where he would be competitive enough to compete and to protect himself and I don't feel like he's in that position so he's not going to wrestle."
Although sidelined, Suriano has the full support of his teammates and coaches, who all noted that there's no place he'd rather be than competing this weekend, especially with the signature competitive drive fans have seen all season from the true freshman.
"You get hurt," Sanderson said. "Injuries happen. Life happens, but life is good. Life is good. Nick has a lot to be grateful for. And he has three years to terrorize college wrestling and international wrestling after that. It is what it is. He got injured. It happens and life goes on."
With Suriano unable to compete, Sanderson also noted that it's the perfect time for the rest of Penn State's eight NCAA qualifiers to step up and find ways to tally up the bonus points.

The Nittany Lions have plenty of options when it comes to bonus point potential, most notably in top-seeded Nittany Lions Jason Nolf (157) and Retherford (149). Retherford, who captured the NCAA crown last year is 23-0 on the year with 16 pins, three tech falls and a major. Nolf, who finished as an NCAA finalist last year, is 22-0 on the year with 13 pins, six tech falls and one major. Both also highlighted the Big Ten Championships with a pair of individual titles.
In 2015, Retherford was on the sidelines with the Nittany Lions at the Scottrade Center for the NCAA Championships. Redshirting the season 2015 after a fifth-place finish at the NCAA Championships in 2014 at 141, Retherford went on to win the title in 2016 at 149. Now back in St. Louis, this time he'll have the opportunity to earn yet another championship, bringing with him a few new things when it comes to style.
"You have to keep growing and learning," Retherford said. "So I guess everywhere I've been trying to add new things, trying new things and matches if I can. And I guess that's the way I've grown and mentally as well, being a little more patient. Being patient but still scoring at the same time."