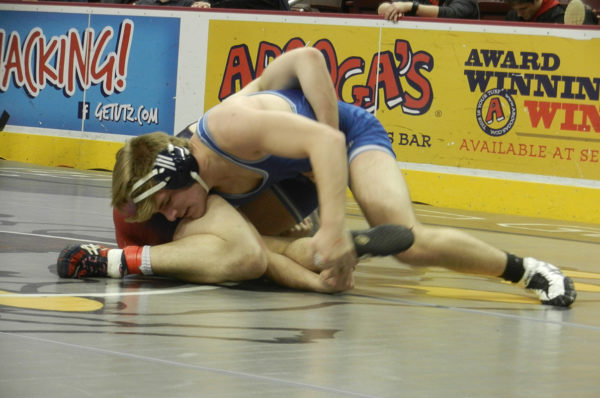 HERSHEY — Central Mountain's outstanding wrestling season came to an end at the Giant Center Friday afternoon, the final two Wildcats at the state tournament losing their second round consolation matches, eliminating both.
At 182 pounds Caleb Turner had an early lead on Collin Stevens (38-3) of Central Bucks East, but Stevens came back strong in the final period to pull out a 9-8 win and end Turner's senior year with a record of 35-11. Turner was a four-year starter for the Wildcats.
At 285 pounds the Wildcats' Richie Thompson was taken down and pinned in period number one by Gerald Brown (31-7) from West Mifflin. Thompson, a senior and first-year starter, finished his season at 34-13.

Going into Saturday action, Bethlehem Catholic leads Nazareth by a 54-51 score in the team race. District 6 has five wrestlers in the Saturday morning semifinals: Cole Manley from Altoona at 132 pounds; Seth Koleno from Bald Eagle Area at 138; Brock Port from Bellefonte at 145; Trent Hidlay from Mifflin County at 160 and Cole Urbas from State College at 182.
Tomorrow's semifinals are scheduled for 9 a.m., championship finals and consolation finals at 7 p.m.