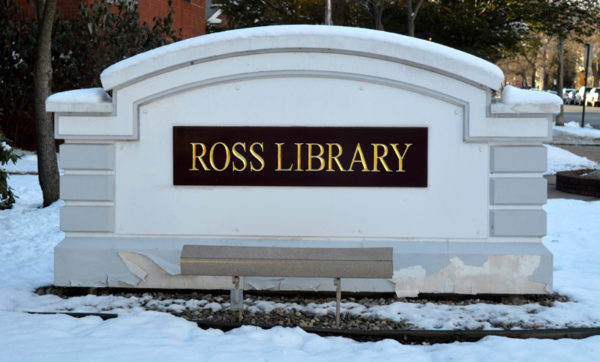 HARRISBURG – State Rep. Mike Hanna, D-Clinton/Centre, today announced that the Annie Halenbake Ross Library was awarded a $44,445 grant through the Pennsylvania Department of Education's Keystone Recreation, Park and Conservation Fund.
According to the department, 27 libraries have been awarded grants this year totaling $5.9 million.
"Libraries are important partners in sustainability," Hanna said. "It is important to provide our libraries with the resources necessary to support our community needs."
Hanna said the library intends to use the grant funding to refurbish windows with efficient glass, replace the entrance glass doors and replace current lighting with LED.
"Our libraries provide valuable learning experiences for all ages," Hanna said. "I am happy to see the Annie Halenbake Ross Library receive funding to help make much-needed improvements that will work to increase energy efficiency and, in turn, minimize heating and cooling costs."
Bill Reynolds, Maintenance Facilities Manager and Supervisor of the Annie Halenbake Ross Library said he believes this local library which serves the citizens of the City of Lock Haven and, even more, the majority of all residents of the boroughs and townships that comprise the greater population of Clinton County, will continue to provide and make available valuable resources and services without charge to all residents of the county.
"Annie Halenbake Ross Library hosts a number of activities and resources for patrons of all ages," Director Diane Whitaker said. "For example, Wi-Fi and computer access is free and used by those searching for jobs and preparing resumes. We also host local residents' works of art and cultural information in the Edythe Hoy Bossert Art Gallery, and residents can research local family information using microfilmed newspapers in the PA Room or just look for an entertaining DVD or favorite book for a family night at home.
"We are very happy that the Department of Education looked favorably upon our request," she said.
The Department of Education, through the Office of Commonwealth Libraries, Bureau of Library Development, administers the public library portion of this program which is funded from a portion of the realty transfer tax. Grants pay up to 50 percent of eligible costs in planning, acquisition, construction and rehabilitation of public libraries. The Keystone grant requires a dollar-for-dollar match.