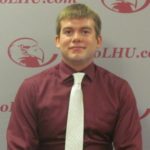 LOCK HAVEN — While Lock Haven University is looking at a realignment of its collegiate athletic program, new developments have occurred, including a school confirmation that head swimming coach Joel Blesh will not be back as swimming coach next year.
Blesh, coach of the women's swimming program for the past five years, has had his name removed from the school website directory of coaches; instead the only names listed are assistant coach Chelsea Edwards and volunteer assistant Patrick Smith.
Asked about a report that Blesh had been told by the school on Monday he would no longer be involved with the swimming program, a university spokesperson Wednesday evening told therecord-online, "He will not be returning as coach next year. His contract expires June 30 and will not be extended." The spokesperson declined to elaborate further.
Blesh had formerly been the head coach of the Lock Haven YMCA swim program and was a magna cum laude graduate of Lock Haven University. Additionally he had been enrolled at LHU in its Masters of Sport Science program.
The future of the swimming program had been under review as part of the school's ongoing study of its intercollegiate athletic program. The school said earlier this week that study has been forwarded to university president Dr. Michael Fiorentino and some decision was expected on its recommendations no later than March 23. As advanced to the president, the analysis calls for cutting men's indoor and outdoor track and field, but swimming is not to be eliminated.
The most recent LHU women's season ended in mid-February.
Meanwhile the university faculty, through its APSCUF union, has asked the school to delay for a year any plans to implement proposed changes. A statement followed an APSCUF meeting on Tuesday and asked the school to delay any action "pending a transparent consideration of input from a wide range of University constituencies as well as a more complete and considered response to those perspectives and concepts that coaches and students have already shared with administration." The athletic department spokesperson said he was aware of the statement and indicated it would be discussed further with appropriate parties.