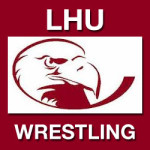 INDIANAPOLIS – Redshirt-freshman Kyle Shoop (Boiling Springs, Pa./Boiling Springs) of Lock Haven University wrestling team has earned an at-large bid for the 2017 NCAA Division I Wrestling Championships. The announcement was made on Tuesday.
Shoop, a 149-pounder, is 38-15 on the season and gives Lock Haven a fourth qualifier, marking the most national qualifiers for LHU since the Bald Eagles sent four to nationals in 2014.
Shoop joins DJ Fehlman (Warren, Pa./Warren), Ronnie Perry (Christiana, Pa./Solanco) and Thomas Haines (Quarryville, Pa./Ohio State), who all qualified for the NCAA Tournament by way of their finishes at the Eastern Wrestling League (EWL) Tournament this past Saturday (March 4).
Perry won the EWL title at 141 pounds and is 28-6 on the season.
Fehlman (133) and Haines (285) both finished second at the EWL Tournament and are 29-9 and 31-5 on the season, respectively.
The 2017 NCAA Division I Championships are scheduled for Thursday through Saturday, March 16-18 at the Scottrade Center in St. Louis.