Haven trio headed to NCAA's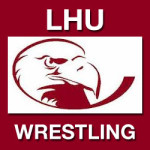 BLOOMSBURG – Ronnie Perry (Christiana, Pa./Solanco) became the Lock Haven University wrestling team's 41st individual Eastern Wrestling League (EWL) champion and he was one of three Bald Eagles who booked a trip to the NCAA Championships. For his efforts Saturday, Perry was named the EWL Tournament's Most Outstanding Wrestler.
LHU finished third overall at the EWL Tournament after the Bald Eagles racked up 71.5 points, finishing just behind Rider who was second (75 points). Edinboro won the team title with 121.5 points. Clarion finished a distant fourth with 48.5 as Edinboro, Rider and Lock Haven flexed their overall EWL dominance today.
Perry booked a return trip to the NCAA Division I Championships in St. Louis with his 141-pound title after downing one of his biggest rivals, which highlighted another solid day for Lock Haven.
DJ Fehlman (Warren, Pa./Warren) and Thomas Haines (Quarryville, Pa./Ohio State) both finished second at 133 and 285, respectively, and by doing so punched their tickets to the NCAA Championships, joining Perry as 2017 national qualifiers.
Adam Mackie (Bechtelsville, Pa./Brandywine Heights) added a second-place finish at 174.
Kyle Shoop (Boiling Springs, Pa./Boiling Springs), Jonathan Ross (Dillsburg, Pa./Northern York) and Tristan Sponseller (East Berlin, Pa./Bermudian Springs) all finished third.
Perry, the No. 2 seed at 141, opened his EWL Tournament with a dominating 17-0 tech fall (5:40) victory over host-Bloomsburg's Grant Bond. In the semifinals, Perry used a late third-period takedown to slip past No. 3 Tejon Anthony (George Mason), 4-2.
In the finals, Perry took down top-seed Brock Zacherl of Clarion 5-3 in a thriller. The two had met twice early this season with Zacherl winning both times – 5-3 (at Pennsylvania State Athletic Conference (PSAC) Championships) and 3-2 in the regular season dual.
Perry's EWL title gave the Bald Eagles individual EWL championships in back-to-back seasons. Last season when Dan Neff won an EWL title, it marked Lock Haven's first conference champion since 2010.
Fehlman, the No. 2 seed at 133, opened the day with a 12-1 major decision over George Mason's Lio Quezada and Fehlman pinned No. 3 seed Anthony Cefolo of Rider at the 5:27 mark of their semifinal match. In the finals, top-seed Korbin Myers of Edinboro edged out Fehlman 7-4 (TB-1) in a thriller that went the distance and more.
Mackie, a two-seed, had a first round bye and needed only one win to advance to the 174 pound finals. In the semifinals, Mackie grinded out a thrilling 10-5 win over No. 3 Dominic Rigous of Clarion. In the finals, Mackie was edged out by No. 1 Ty Schoffstall of Edinboro, 12-8 despite a tremendous third-period push.
Haines, the top-seed at 285 used two dominating wins to advance to the finals. He majored Bloom's Bruce Graeber, 12-2 and moved past No. 4 Mauro Correnti of Rider, 3-0 in the semis.
In the finals, Haines and No. 2 seed Billy Miller of Edinboro locked up in one for the ages. For Miller, the third time was the charm as he edged out Haines, 7-3 (TB-1). Haines had beaten Miller twice already this season, but the two met Satuday night in a match that brought the Nelson Field House crowd to its feet on several occasions.
Shoop (No. 3 seed) dropped his first match of the day at 149 in the semifinals after a first-round bye. He was downed by No. 2 Sahid Kargbo (George Mason), 10-4 in an exciting bout. He followed it up with a hard-fought 5-1 win in the consolation semis over Gino Fluri of Rider. Shoop took down four-seed Jake Keller (Clarion) 3-0 for third.
Ross (No. 4 seed) edged No. 5 Kevin Laubach (Bloomsburg) 1-0 in his first round bout, but Ross fell to No. 1 BJ Clagon of Rider 10-0 (MD) in the semis. In the consolation semifinals, Ross took down Mac Tanner of Clarion 13-9 for a spot in third-place match. In the third-place bout, Ross, a true-freshman knocked off No. 3 Matt Raines of George Mason, 7-3.
Sponseller, the No. 2 seed at 197, dropped his semifinal match to No. 3 Dustin Conti of Clarion, 3-1 in sudden victory after the referees reversed a late call on an official review. Sponseller had received a first-round bye, but he bounced back in a big way in the consolation semis, downing Matt Meadows of George Mason, 7-1 for a place in third-place match. Sponseller dominated No. 4 Dylan Reynolds of Edinboro, 4-0 for third.
The Bald Eagles will return to action at the 2017 NCAA Division I Championships scheduled for Thursday through Saturday, March 16-18 at the Scottrade Center in St. Louis. The NCAA will release its wild card selections in the coming days and it is possible the Bald Eagles could be awarded additional national qualifiers.
FINAL RESULTS/BRACKETS | Also at www.TrackWrestling.com
FINAL TEAM SCORES:
1. Edinboro, 121.5 pts.
2. Rider 75 pts.
3. Lock Haven 71.5 pts.
4. Clarion 48.5 pts.
5. George Mason 27.5 pts.
6. Cleveland State 21 pts.
7. Bloomsburg 5.5 pts.
MOST OUTSTANDING WRESTLER:
Ronnie Perry (141), Lock Haven
LHU AGATE:
*# = seed
125: Jake Field (unseeded) | 0-2
First Round – #1 Sean Russell (Edinboro) pinned Field (3:24)
Consolation Semifinals – #3 JR Wert (Rider) dec. Field
133: #2 DJ Fehlman (#31 NCAA Coaches Panel/#29 NCAA RPI) | 2-1, 2nd, NCAA qualifier
First Round – Fehlman major dec. Lio Quezada (George Mason) 12-1
Semifinals – Fehlman pinned #3 Anthony Cefolo (Rider) 5:27
Finals – #1 Korbin Myers (Edinboro) dec. Fehlman 7-1 TB-1
141: #2 Ronnie Perry (#23 NCAA Coaches Panel/#22 NCAA RPI) | 3-0, 1st, NCAA qualifier
First Round – Perry tech fall Grant Bond (Bloomsburg) 17-0 (5:40)
Semifinals – Perry dec. Tejon Anthony (George Mason) 4-2
Finals – Perry dec. #1 Brock Zacherl (Clarion) 5-3
149: #3 Kyle Shoop (#33 NCAA Coaches Panel/#31 NCAA RPI) | 2-1, 3rd
First Round Bye
Semifinals – #2 Sahid Kargbo (George Mason) dec. Shoop 10-4
Consolation Semifinals – Shoop dec. Gino Fluri (Rider) 5-1
Third-place – Shoop dec. No. 4 Jake Keller (Clarion) 3-0
157: #4 Jonathan Ross | 3-1, 3rd
First Round – Ross dec. #5 Kevin Laubach (Bloomsburg) 1-0
Semifinals – #1 BJ Clagon (Rider) major dec. Ross, 12-0
Consolation Semifinals – Ross dec. Mac Tanner (Clarion) 13-0
Third-place – Ross dec. #3 Matt Raines (George Mason) 7-3
165: #4 Jared Siegrist | 1-2
First Round – Siegrist tech fall Daniel Mika (George Mason) 20-4 (6:23)
Semifinals – #1 Chad Walsh (Rider) major dec. Siegrist 10-1
Consolation Semifinals – John Vaughn (Cleveland State) dec. Siegrist 7-5 SV
174: #2 Adam Mackie | 1-1, 2nd
First Round Bye
Semifinals – Mackie dec. #3 Dominic Rigous (Clarion) 10-5
Finals – #1 Ty Schoffstall (Edinboro) dec. Mackie 12-9
184: #5 Corey Hazel (#31 NCAA Coaches Panel) | 1-2
First Round – #4 Scott Marmoll (Clarion) 5-3 SV
Consolation First Round – Hazel major dec. Austin Harrison (George Mason) 17-8
Consolation Semifinals – #2 Mike Fagg-Daves (Rider) dec. Hazel 7-3
197: #2 Tristan Sponseller | 2-1, 3rd
First Round Bye
Semifinals – #3 Dustin Conti (Clarion) dec. Sponseller 3-1 SV
Consolation Semifinals – Sponseller dec. Matt Meadows (George Mason) 7-1
Third-place – Sponseller dec. #4 Dylan Reynolds (Edinboro) 4-0
285: #1 Thomas Haines (#12 NCAA Coaches Panel/#15NCAA RPI) | 2-1, 2nd, NCAA qualifier
First Round – Haines major dec. Bruce Graeber (Bloomsburg) 12-2
Semifinals – Haines dec. #4 Mauro Correnti (Rider) 3-0
Finals – #2 Billy Miller (Edinboro) dec. Haines 7-3 TB-1