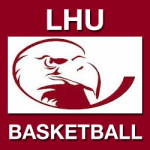 EAST STROUDSBURG – Despite five players scoring in double figures and a second half push, the No. 6 seed Lock Haven University men's basketball team (13-14) fell to No. 3 East Stroudsburg University (18-10), 106-87 Monday night in Pennsylvania State Athletic Conference (PSAC) First Round Tournament action.
Five different Bald Eagles, among them three freshmen, netted double figures including Tarojae Brake (Coatesville, Pa./Octorara), who continued his strong play off the bench. He netted a team-high 20 points to cap his remarkable run of play down the season's stretch.
Fellow rookies Khaleeq Campbell (Chester, Pa./Chester) and Amir Hinton (Philadelphia/Abington) netted 17 and 13 points, respectively.
For Hinton, his 13 points push him to 642 points for the season, which breaks Lock Haven's all-time single-season scoring record. Hinton, the PSAC's regular season scoring champ, is also the league's all-time leading scorer among freshmen.
Hinton did what he did all year for LHU, and finished the season with another strong effort, recording seven rebounds, three assists, two blocks and a steal.
Campbell like Brake, was a spark off the bench. Campbell matched his career-high with four 3's and finished with 17 points, just one shy of his season and career-high. Brake added five rebounds.
Seniors Craig Slade (Philadelphia/Constitution) and Cole Renninger (Lock Haven, Pa./Central Mountain) both played well in their final games as a Bald Eagle. Slade had 13 points and seven rebounds, while Renninger finished with 10 points, three assists and two steals.
Ra'eese Hunt (Upper Marlboro, Md./Riverdale Baptist) added nine points and seven rebounds.
Jihad Barnes (Philadelphia/Philadelphia Electric Charter), one of two freshmen starters dished out a career-high seven assists to go along with six rebounds and five assists.
East Stroudsburg used a pair of big first-half runs and led 55-32 at halftime as the hosts pushed past LHU. The Bald Eagles dug deep in the second, but just couldn't overcome the big ESU lead. The Warriors shot 48 percent from field and were led by Rasheed Moore, who netted a game-high 33 points.
With the win, ESU moves on to the quarterfinals where the Warriors will meet No. 2 Shippensburg University on Wednesday night.
LHU head coach Mike Nestor's Bald Eagle squad finished the 2016-17 season with a 13-14 overall record.