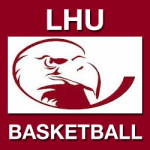 LOCK HAVEN – The Lock Haven University men's basketball team is set to make its fourth consecutive Pennsylvania State Athletic Conference (PSAC) Tournament appearance.
The Bald Eagles, the PSAC East's No. 6 seed will play at No. 3 East Stroudsburg on Monday (Feb. 27) night in PSAC First Round action. The opening-tip is set for 7 p.m.
LHU finished the regular season 13-13 overall and went 9-13 in PSAC play. Lock Haven closed the regular season on a tear as the Bald Eagles won three of their last four games.
Tonight's First Round action marks Lock Haven's 13th all-time PSAC postseason berth and fourth consecutive.
LHU hasn't qualified for four straight PSAC Tournaments since the 1986-87, 1987-88, 1988-89 and 1989-90 seasons.
Lock Haven is also one of four PSAC East teams who have qualified for the PSAC Tournament in each of the last four seasons joining East Stroudsburg, West Chester and Kutztown.
Leading the way all season for Lock Haven has been freshman sensation Amir Hinton, who scored an all-time PSAC freshman single-season record 629 points during the regular season. He averaged 24.2 points per game, which gave him the PSAC's regular-season scoring title and he's just 11 points away from breaking Lock Haven's all-time single season scoring record.
As a team, Lock Haven averages 82 points a game, which is fifth-best in the PSAC. Ironically enough, the top five in scoring are all PSAC East teams. LHU also ranks fifth in team field-goal percentage (47 %).
The key to the Bald Eagles 82 points per game average is a balanced scoring approach. Although it's spearheaded by the remarkable play of Hinton, one of the league's best all-around players, the starting-five is also providing a mark.
Ra'eese Hunt is averaging 12.8 points per game and has shot lights out down the stretch for The Haven. Jihad Barnes averages nine points per game, Cole Renninger 8.2 and Craig Slade chips in with 7.9 points per game.
Hinton, who does it on both sides of the court, is also one of the league's premier defensive players. On the season he averages 6.6 rebounds and has 22 blocks and 55 steals. Slade and Renninger are both playing solid basketball as the playoffs loom and add, 6.3 and 5.0 rebounds per game, respectively.
True-freshman Tarojae Brake has been a huge spark off the bench. He's appeared in all 26 games and is averaging 8.0 points per game. His best basketball of the season has come in the last couple weeks and he will be a big force for LHU as the confident Bald Eagles embark on their playoff run.
East Stroudsburg (PSAC) and Lock Haven split the two-game series during the regular season with each team winning at home. ESU won 115-78 on January 3 and Lock Haven downed the Warriors in Thomas Fieldhouse on January 28, 89-82.
East Stroudsburg (17-10, 15-7 PSAC) dropped its final two games of the regular season, falling to nationally-ranked Shippensburg and Mansfield to close out the season.
Monday night will mark the second straight year where LHU and ESU will meet in the First Round.
The Bald Eagles are looking for their first PSAC Tournament win since 1990 when LHU topped Edinboro 84-75 in the quarterfinals. Lock Haven was downed by Millersville 82-68 in the semifinals that season.
The winner of tomorrow night's First Round clash will play at No. 2 Shippensburg University in PSAC Quarterfinal action on Wednesday, March 1.
PSAC Tournament Schedule:
Monday, February 27 – 1st Round
No. 6 East Lock Haven at No. 3 East East Stroudsburg, 7 p.m.
No. 5 East West Chester at No. 4 East Bloomsburg, 7 p.m.
No. 6 West Seton Hill at No. 3 West Pitt-Johnstown, 7 p.m.
No. 5 West Slippery Rock at No. 4 West Mercyhurst, 7:30 p.m.
Wednesday, March 1 – Quarterfinals
Winner of Bloom/WCU at No. 1 East Kutztown, 7 p.m.
Winner of Mercyhurst/SRU at No. 1 West IUP, 7:30 p.m.
Winner of ESU/Lock Haven at No. 2 East Shippensburg, 7:30 p.m.
Winner of Seton Hill/UPJ at No. 2 West Gannon, 7:30 p.m.
Saturday, March 4 – Semifinals (highest remaining West seed hosts)
Semifinal 1 will be at 1 p.m.
Semifinal 2 will be at 3:30 p.m. (highest remaining West seed)
Sunday, March 5 – Championship
Winner of SF1 vs. Winner of SF2, 3 p.m.
*The tournament winner earns an automatic bid to the NCAA DII Men's Basketball Tournament.