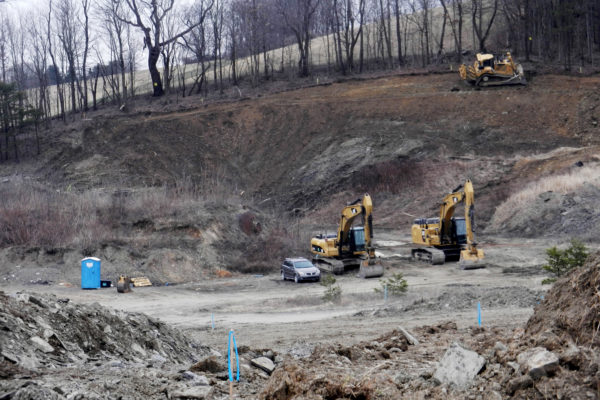 LOCK HAVEN — It has been a several year process to get to this point, but this week sees Woodward Township site preparation work commence, earth-moving/removal to ultimately add a third paper machine at the First Quality Tissue plant in Castanea Township.
Earth-moving equipment from contractor Glenn O. Hawbaker of State College is doing site preparation work in Woodward Township, a prelude to an estimated 60,000 trips to take fill from several Lock Haven area locations to the south side of First Quality's tissue plant, raising the presently vacant surface above the 500 year flood plain. The site will see construction of a new building to house the third machine, part of a $300 million expansion project.
Plans call for Hawbaker to transport 600,000 cubic yards of fill, that phase of the expansion to be completed by late May. The initial site is hilly terrain south of the Webbwood housing development off Route 664 in Woodward Township. The loaded trucks will travel onto Route 664, make a left-hand turn onto Mill Hill Road, right onto Woodward Avenue, across the Constitution Bridge onto E. Main St. in Lock Haven, then a left-hand turn onto Hanna St. and west on Walnut St. to the newly constructed access road adjacent to the rail line running westerly to the First Quality site.
The Hawbaker firm has also received permission from the Keystone Central School District to remove fill from a site in Bald Eagle Township, an area west of Malinak Stadium at the Central Mountain High School complex. That work would turn a hilly area there into a level site, facilitating long-dormant district plans for a new baseball field at the school complex.
The local First Quality expansion was first publicly discussed in February of 2014. The most recent formal word from First Quality, last November, was that the local expansion is expected to be completed in the first half of 2019. 184 new jobs are anticipated for Clinton County's largest employer.