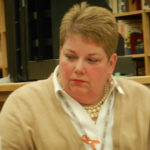 BALD EAGLE TOWNSHIP — Western Clinton County has been rife with rumors over the last 24 hours, concerns expressed on social media that the Bucktail High School and Renovo Elementary School could be shut down as part of a school consolidation effort within the Keystone Central School District.
District superintendent Kelly Hastings, asked about the rumors, indicated they are an outgrowth from a board finance committee meeting earlier this month. That meeting saw board members talk about the potential local impact on pending legislation in Harrisburg which would do away with school property taxes at the local level, replacing the money with state proceeds from an increase in the state sales tax and a hike in the statewide personal income tax.
Hastings provided this statement to therecord-online and others who had contacted her office:
"At the finance meeting in February, the board charged the administration to bring forth possible scenarios to address the budget situation. We were told to bring all options to the table. While consolidation is an option, there is no plan to close any schools at this point. Ultimately, the board will have to make the decisions about the budget, and we are trying to bring them as much information as possible. Thank you."
State Rep. Mike Hanna (D-Lock Haven) was asked about the status of the measure to do away with school district property taxes. He said, "I don't believe" the measure will pass as proposed. He said it calls for a $14 billion tax increase, the funding raised from the proposed hike in the sales tax and personal income tax. He predicted some measure may ultimately be approved in Harrisburg but expressed doubt it could approach anything close to a $14 billion package. He said the plan to do away with school property taxes is "laudable, (but) it is not necessarily do-able" as presently proposed.
School board president and Renovo area representative Butch Knauff said he has heard "all kinds of rumors" about Bucktail closing. He said the administration will make a presentation on budget options at the board's March 2 meeting.