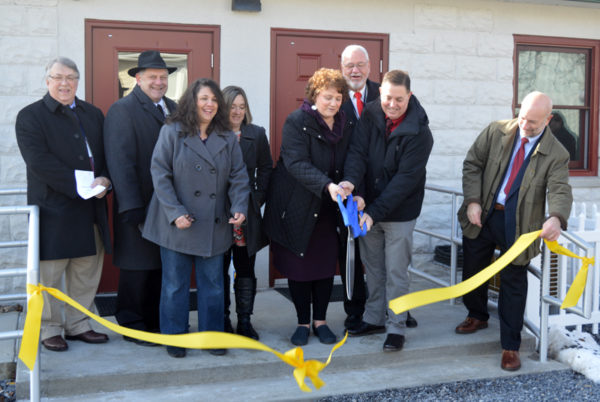 By LaKeshia Knarr
LOCK HAVEN – Valentine's Day began with a ribbon cutting ceremony at the Merit House, a structure dedicated to housing homeless men in the community.
The shelter, constructed from a former garage, is situated behind the Life Center, a residential homeless facility for women and children near Canal Park and The Roxy. Both shelters are operated by the Clinton County Housing Coalition (CCHC), a nonprofit social service agency seeking to provide housing for homeless in the county.
A soft opening was held at the shelter at the beginning of February and residents have already begun using the facility. Nightly intake takes place about 6 p.m. Individuals are served on a first come, first served basis and a background check is run to ensure there are no violent offenders.
Dozens turned out for the ceremony, including county commissioners, county administrators, and representatives of various community organizations and businesses.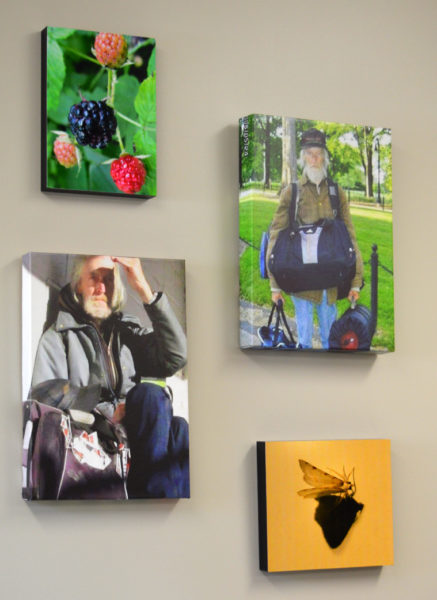 The name of the building has a special meaning for the people involved with its construction. "The Merit House" is named in honor of Glenn Merritt, a homeless man who lived in the area for roughly eight years and passed away last summer inside the building.
"Glenn was a member of our community and never asked for anything from any one," explained Maria Garlick, executive director of the CCHS.
Garlick said Merritt, who suffered from mental illness, declined help until he was diagnosed with cancer. The 62-year-old man passed away last July inside what is now the Merit House, "before renovations," the executive director said.
"He knew he had a place to come when he needed us," she said. "We serve people from all walks of life. Here's a man with a dual degree… It just hit me that all life has merit."
Garlick said talks to establish an emergency shelter for men began years ago. Despite all the work the CCHC was doing on behalf of homeless women and children, a population was being underserved, she noted.
"It seems to be the single men that fall through the cracks," Garlick said. "It was a dream. It was a vision … and it just all unfolded."
The project, finished in just 18 months, totaled $122,998 and was funded by a 2014 Emergency Solutions Grant from the Department of Community and Economic Development (CDED) for $39,375; $44,873 from the City of Lock Haven's 2015 Community Development Block Grant; $10,000 from the CCHS; and $28,750 from private and corporate donations.
Jeff Rich, director of the Clinton County Housing Authority, which partnered with the CCHS to provide services to homeless county residents, called the ribbon cutting a "monumental occasion," as it marks the fruition of a dream that began about five years ago. He also thanked the county commissioners for their support of the project.
Recalling the former state of the structure now ready to house men overnight, when it was a garage, Rich said, "it was horrible."  John Spearly Construction of Bellefonte, Hazel Plumbing and Heating of Bellefonte, Precise Electric of Lock Haven and Select Security each contributed to the renovation of the Merit House, Rich said. "They did a wonderful job with the skeleton they had to work with."
Rick Vilello, former mayor of Lock Haven and current deputy secretary for community affairs and development at the DCED, also spoke during the ceremony.
Reflecting on his experience working with hundreds of local governments across the state and witnessing the various troubles each faces, he said he has taken away a few lessons.
"I learned we're really, really lucky here," Vilello said. "We are really fortunate for all of the collaborations we get (in this community). You don't always get to see that. We do have a lot of really, really good people working hard to make things better and this building is a good example."
Commissioners Pete Smeltz, Jeff Snyder and Paul Conklin also offered words during the ceremony.
"We're grateful to be a part of this tremendous project," Smeltz said.  "I would like to think, and I know, we are a community who cares. This community does care and that's why this happened."
Snyder also thanked Rich for his work on behalf of the county, as well as everyone else involved in planning and establishing the new men's shelter.
Addressing this urgent need for county residents, Conklin said, shows "we're a healthy, thriving community."
Katie de Silva, county grants administrator, helped find funds for the new shelter and talked about some of the processes involved. She thanked Leonora Hannagan, city planner, for assistance with regulations.
Since opening the Life Center doors in 2013, de Silva said, half of the program's financing has come from the Emergency Solutions Grant, totaling $532,948. The other half was raised through fundraisers, she said, noting that the CCHC must match 50 percent of costs each year for necessary grant funding.
After the ribbon cutting, guests were invited to tour the Merit House and to enjoy light snacks and refreshments in the Life Center.
The Life Center and the Merit House are located at 133 E. Main St., Lock Haven. To learn more about the program, call 570-502-1534 or email ccha@clintoncountyhousing.com.