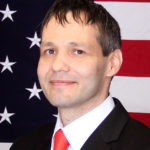 RENOVO—Eric W. Ditty has announced he will be a candidate for Magisterial District Judge of Western Clinton County (District 25-3-03).
Ditty said he will draw his petition on Feb. 10 and begin its circulation on Feb. 14. He said he will be running on both the Democratic and Republican tickets. He said his campaign theme will be "Duty, Honor, Community."
A life-long resident of the Renovo area, Ditty is a disabled veteran, the father of James and Ryan Ditty and owner of the Ditty Candle Company. He is a 1992 graduate of Bucktail High School with additional education at Texas State Technical College and Penn College.
He served with the U.S. Army and the Pennsylvania National Guard. Organizations include Renovo Masonic Lodge #495, Past Master; Racing for Hero's Veteran Outreach Director; VFW Benefit Center Volunteer Service Officer; Chapman Township Zoning Hearing Board; Renovo Hometown Hero's Board.
Ditty, 43 and a Chapman Township resident, has been certified for the magistrate's position in 2004 and 2011 and said he plans to attend the June 2017 class for certification.
His employment has included work as a correction officer with the state Department of Corrections at Rockview and the Quehanna Boot Camp.
The Pennsylvania primary election will be May 16. The Renovo district judgeship region includes Renovo and South Renovo boroughs and the townships of Grugan, Chapman, Noyes, Leidy, East Keating and West Keating.