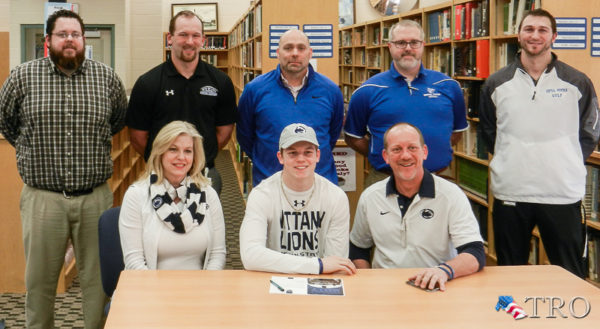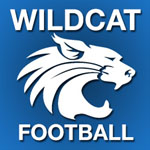 BALD EAGLE TOWNSHIP—His family roots were in Clinton County so Central Mountain senior Justin Neff, even while growing up in Nebraska and then Kentucky, always wanted to be part of the program just down the road, Penn State football.
Today, six years after the Neff family returned to the area, with family and coaches looking on, Neff signed the formal walk-on paper to become a Nittany Lion football player. He said PSU football "was a dream since I was a kid."
Neff told therecord-online he considered two Ivy League schools and NCAA Division II and III opportunities but when the Penn State coaches stepped up their interest he was ready to commit to the Nittany Lions. He said his final decision came after Penn State's October home thrashing of Iowa, the time he had an opportunity to talk to head coach James Franklin.
The lanky Neff was a do-everything athlete with Central Mountain over his four varsity years in the program but said Penn State is looking at him as a safety, a position at which he first excelled as a Wildcat freshman
His father Scott, a Loganton native, said his son always had an interest in Penn State and cherishes a signed letter received from then-Nittany Lion assistant coach Larry Johnson while the younger Neff was playing Pop Warner ball in Kentucky in 2011.
Now the multi-talented Neff will get his chance at PSU, following earlier Lock Haven area products that went to University Park as walk-ons and excelled to the point they were awarded scholarships. These were Travis Forney, a kicker from Lock Have two decades ago; NFL performer Robbie Gould, a kicker from Central Mountain better than a decade ago; and most recently, two-time Penn State captain Von Walker, an offensive dynamo from Central Mountain before specializing in special teams at Penn State.
Neff lauded the assistance he received from Walker who graduated in December and is now on campus in grad school and rehabilitating a knee following surgery from a late season injury. Neff said Walker has "definitely helped in the process," everything from getting around the University Park campus to beneficial drills to be found on You Tube.
Neff said he plans to major in criminal justice, or perhaps psychology. He said he likely will start school in the summer. He said he wants to prove wrong any critics who don't believe he can be successful as a Nittany Lion, his goal to earn a scholarship as did Forney, Gould and Walker.
He was flanked by parents Susan and Scott at today's signing. He thanked his coaches, including his Pop Warner coach in Kentucky who viewed the ceremony through a hand-held device. Neff had three head coaches during his four varsity years: as a freshman it was Vinnie Kishbaugh, Mike Nines through tenth and eleventh grades, and Jim Renninger in the 2016 season. Position coach Brad Shellenberger was also present at the signing.