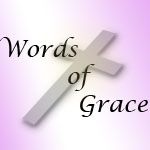 The people of Isaiah's day were walking in darkness while they were waiting for the light to come.  They were trying to feel their way along in their spiritual darkness.
"We grope for the wall like the blind," they lamented, "and we grope as if we had no eyes.  We wait for light . . . but we walk in darkness."
The light they waited for was the coming of their Messiah.  Those who "walked in darkness" were going to see "a great light" (Isaiah 9:2).
This prophecy was fulfilled when Jesus came into Galilee.  Matthew wrote about it in his Gospel.  "The people which sat in darkness saw great light" (4:16).
Tom Malone tells the story about a man who was groping along the streets of London, England.  An awful fog had gripped the city which is known for its fog.
When this man stumbled into another man on the street he begged his pardon.  "I'm lost," he said to the stranger.  "I cannot find my way home."
The man over whom he had stumbled asked him where he lived.  When he told him the street and the number the man assured him, "I will guide you there."
And he did just that.  Leading him along the streets without missing a step, he took him right to his home.  When asked how he did it, he answered:
"Sir, I am blind.  I have no sight at all.  But I have had to learn my way along these streets."
To those who are groping in the darkness, Jesus is the guiding light.