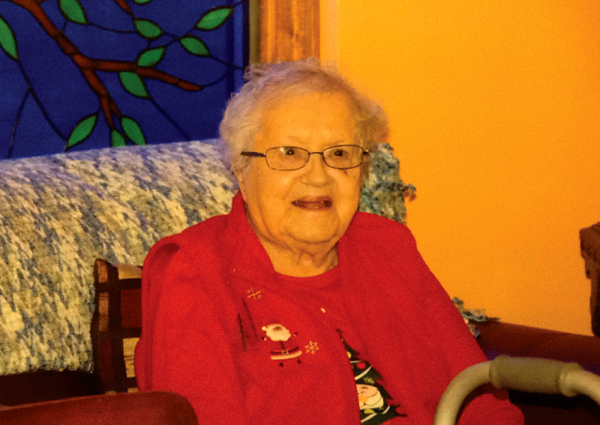 by Christopher Miller
LOCK HAVEN – A walk down memory lane is especially easy when you ask Ruth Bowes, formerly of South Renovo, about her life experiences.  Bowes, 99, will be Clinton County's next centenarian on Friday, January 27.
One hundred years ago, the Clinton County Times reported that Max Lipez had just opened a new "gents" shoe store on Bellefonte Avenue, sugar was selling for 7.5 cents per pound, people were to use extreme caution when handling all (light) fixtures and that there were giant sleighing parties in South Renovo that were all the rage down Pennsylvania Avenue.
What the Times did not report was that Ruth G. (Confer) Bowes was born.
"When I was born," Bowes states, "mother said that dad had to go from the family farm in Hublersburg to Howard by bobsled to fetch Dr. Kurtz because the snow was too deep!"
As the decades swept by, Ruth kept on going as she had since she was a child helping her parents on the farm.  "I never thought I'd see the day…but as the days kept going, I would say Lord I hope I get to see 100," she said excitedly.
It was that farming life that she shared with her six siblings, all of whom have since passed on.  This has made her the matriarch of a large family consisting of five generations, including her 2 children, 6 grandchildren, 11 great-grandchildren and 2 great-great-grandchildren!
"On the farm, I pitched a lot of manure," Bowes exclaimed.  "I did everything a man did, like driving horses, learned how to drive tractor, worked the fields with my dad, picked stones…I quit school my sophomore year to help dad on the farm."
"Oh my girlfriends thought it was awful, they were lazy," Bowes remarked.  But she was devoted to helping her dad on the farm, which led to her quitting school sophomore year just to help her dad.  "Dad was a dairy farmer," she began.  "When the cows saw me coming, they were down at the gate waiting to get out which we did all days but Sunday." This included delivering milk locally in all sorts of weather, replacing empty glass bottles with fresh every day or every other day, as the families needed it.
Ruth met the love of her life, James at the Howard Carnival and they were married May 6, 1938.  "I remember," she recalled, "we were at a hunting camp in the mountains when a man told my husband James that he should get into railroading and out of the brickyard in Beech Creek, where he can make a better life for his wife and future family."
"In 1943 he boarded a train and left for Renovo," Bowes said.  James Sr., who passed on in 1979, worked his way up to engineer, actually becoming the first man to take a diesel engine out of the Renovo yards.
"When it comes to Renovo," as many others have said before her, "you can't beat the people up there," she recalled.  "They are so nice and friendly…they are just great."  Bowes recalled the war years and shortly thereafter were a booming time for Renovo.  "People would be coming up here, looking for jobs, and they would get them on the railroad" she remembered.
It was in South Renovo where she traded in farm life to keep house for her growing family.  Everything from making large kettles of soup, baking fresh bread and canning vegetables to making clothing for her daughter, Ruth did it all.
"Oh that old Kalamazoo stove was wonderful (for baking)," she exclaimed.  Her children recalled that their mother would only use the hard coal, because soft was too dirty.  "She would have the coal delivery coals wash it first, before letting it come into the house," replied her son James Jr.
Along with keeping house, Bowes was an ardent volunteer at the old South Renovo Hospital where she volunteered most Monday, Wednesday and Friday afternoons.  "Ceramics…she loved making ceramics," her children commented.  Ruth was also involved with the Ladies Aid group at her church, United Methodist on Seventh Street, which gave money and funding to missionaries of all denominations.
Later in their lives, Ruth and her husband James enjoyed their time vacationing in Florida, the Keys specifically and road-tripping across the country where she found Nebraska to be a fantastic landscape, falling in love with the scenery and the bluffs.  Even when her children were young, they would find the time to vacation for two weeks a year in Westport, Ontario Canada.  "Raising the children was the most fun part of my life," she recalled.  "We brought them up right!"
Ruth moved down to Mil Hall in 2009 and has been a resident at Haven Skilled Rehab since 2013.  Of all of the places she has lived, Ruth calls Pennsylvania Avenue in South Renovo her most favorite.
And what might her secret be to longevity, you ask? Well, as Ruth puts it, "The secret to living this long is eating healthy, working hard and not being lazy, coupled with going to church and believing in God."
"I might be 100 years old, but I don't show it," she proudly exclaims.
The Bowes family wishes to invite friends and well-wishers to her 100th Birthday party this Saturday at the Flemington Methodist Church from 2 – 4:00 PM where snacks and light refreshments will be served.  The family respectfully requests that no gifts be given, only cards.