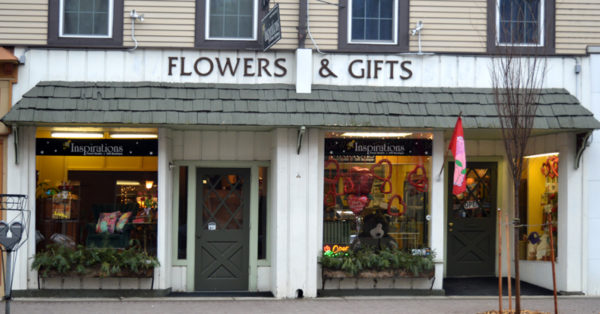 By LaKeshia Knarr
LOCK HAVEN – Having a special event or remembrance of a loved one and need flowers to mark the occasion?  Inspiration Floral Studio & Gift Boutique offers all your favorite flowers – and the company delivers throughout all of Clinton County, and beyond.
Kalina Gentzyel and Doreen Flynn bought the flower shop in 2011. Formerly Ricker Brothers, the shop has been situated at 24 E. Main St., Lock Haven, since 1933. "Right here in the same building, the same shop," Flynn said.
Flynn had worked at Ricker Brothers for about 11 years, Gentzyel about 20.
"We enjoy owning the business because we've expanded into more gifts, candy and body products," Flynn said.
But the new owners kept one of the most popular offerings in-tact: county-wide deliveries.
"We've always delivered," Flynn explained. "There was a need for outlying areas since there are less and less flower shops available. So, we now deliver to all of Clinton County, as well as parts of Lycoming and Centre counties."
"We deliver to almost anywhere, as long as we have the time and they are willing to pay the delivery charge," Gentzyel added.
With projects ranging from general bouquets to personal events, like showers, weddings, parties, funeral services, and more, the women enjoy using their creativity to make each individual order.
"We always try to personalize them for the family," Gentzyel said.
Gentzyel believes a personal touch is important to bring to each client. About 10 years ago, the florist explained, she noticed a trend occurring in the industry – businesses began popping up to provide floral delivery services; however, they're often not floral shops.
These "order gatherers," as Gentzyel and Flynn have come to know them, are often reached when people seeking flowers look online for a florist and call the first 1-800 number listed, Gentzyel explained. As paid advertisers, the companies are often the first ones listed on the search engine; to find the local listings, folks must scroll past the ads.
Once the customer places the order with an "order gatherer," the person on the other end takes fees of the top and then places the customer's order at various shops. The results vary: customers end up with fewer flowers than expected, don't end up receiving their flowers at all, or flowers turn up but aren't ready for display or are dead.
"You don't get a second chance to send a flower," Gentzyel said.
Flynn and Gentzyel enjoy the relationships they build with their clients at their brick-and-mortar shop. They also realize it's important to offer different methods of ordering flowers, to suit all their clients' needs.
"We take orders over the phone and people can order over our website," Gentzyel said. "We don't accept orders from order gatherers. I think it's better for the customer and it will save them money."
"Not only that," Flynn added, "but they can see the products."
With two suppliers in the state, Inspirations Floral Studio prides itself on being able to offer flowers from all over the world.
"There are really no longer seasonal flowers, because we can get them any time," Flynn shared.
For smaller orders, people can often place the order before noon to receive it the same day. Specialized and larger orders should be ordered at least a week in advance.
"People can give us a feeling or a color they like, and then we will work to meet their needs," Flynn explained. "We like to be artists and enjoy the design process."
The women believe their approach to relationship-based service has earned them repeat customers.
"I think most of our customers come here because they trust us," Gentzyel said.
"We offer personal service," Flynn added. "We take special care of each arrangement. If it's cold, they're wrapped up and we'll call before delivery so they can be taken inside right away. If it's extremely hot, we'll air condition the car to ensure the longevity of the plants."
In addition to floral arrangements, Inspirations Floral Studio & Gift Boutique offers Asher's Chocolates, gifts and Zum bath and body products.
To learn more about services offered at Inspirations, call 570-748-8028, visit www.inspirationsfloralstudio.com or www.facebook.com/inspirationsfloralstudio.
Inspirations is open 10 a.m. to 5 p.m. Monday, Tuesday, Thursday and Friday; 10 a.m. to 2 p.m. Wednesday and Saturday.