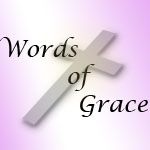 All of us, just like sheep, have gone astray. We have all turned to go our own way, according to Isaiah 53:6.
This was certainly true of David.  He confessed in Psalm 119:176, "I have gone astray like a lost sheep."  Then he prayed, "Seek thy servant."
It is good to know that there is one who came to seek the lost sheep who had gone astray.  First Peter 2:25 reminds us that we were as sheep who had gone astray, but we have been returned to the Shepherd.
That Shepherd is the Lord Jesus Christ.  He said, "I am the good shepherd; the good Shepherd giveth his life for the sheep" (John 10:11).
In the Parable of the Lost Sheep, Jesus told about a man who had one hundred sheep.  When one of the sheep was lost, he left the ninety-nine in the wilderness to go looking for the one lost sheep.
Jesus was describing himself in the parable.  He is the one who rejoices whenever a lost sheep is found.  John W. Peterson gives his testimony in a song that begins:
"A pilgrim was I and a wondering, In the cold night of sin I did roam, When Jesus the kind shepherd found me, and now I am on my way home."