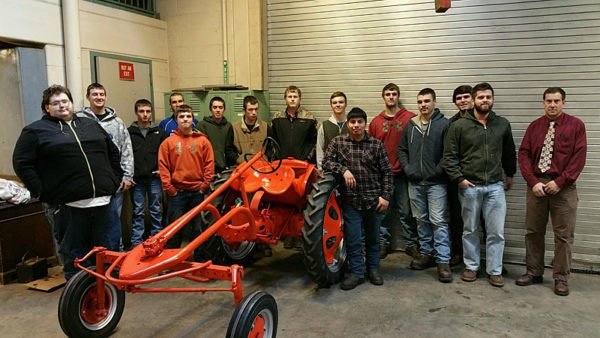 HARRISBURG – Dr. Paul Bohnert's Agriculture Mechanics class began rebuilding an antique farm implement last August. By December the final product was ready to haul to the 2017 Pennsylvania Farm Show now being held in Harrisburg.
The students entered their rebuilt 1949 antique Allis Chalmers tractor in the first annual Department 35 Tractor Restoration Competition. "Kids can show animals but they can't typically show mechanics," said Bohnert. "I'm extremely happy how hard they worked on this project."
As members of the FFA (Future Farmers of America), the Central Mountain team could come home with $1,000, a prize sponsored by Lancaster Farms. The tractor will be on display at the Farm Show all week. Mr. Bohnert's class will give a 15 minute presentation discussing their process and answering questions to a panel of Farm Show officials.
"We all pitched in as best as we could" said student Jake McCauley, the project's final painter. "Mr. Bohnert made sure everyone got a chance to work on the tractor" McCauley continued. Students rebuilt the carburetor and replaced all the inner parts. "I'm glad the Farm Show is giving kids this opportunity" Bohnert added. The Annual Pennsylvania Farm Show began January 6 and continues through January 14.
Keystone Central School District Career and Technical Center offers many opportunities for hands on learning and trade skills. Visit www.kcsd.k12.pa.us/curriculum to learn more.
Pictured with the final product: from the left, Seth Darby, Trevor Smith, Gannon Vonada, Trent Rickert, Anthony Underkoffler, Seth Shade, Ryan Courter, Justin Dixon, Heath Wertz, Zach Holdren, Chris Shinn, Austin Swortwood, Brandon Brungard, Austin Herlocher, and Dr. Bohnert. Missing from photo are Jake McCauley and Jake Myers.